SaaS is competitive. Whether it's a social media analytics tool or a productivity app, you are competing against competitors that number in double-digit. At the same, most SaaS companies are in a big market. That's why Facebook Ads is the perfect channel for customer acquisition.
In this blog post, I have curated some of the best Facebook Ad copy examples from SaaS companies across the world. You will find Facebook Ad examples from CRMs and team chat software to analytics and landing page design tools.
So here goes the list of best Facebook Ads by SaaS examples:
Ad Example #1: Ahrefs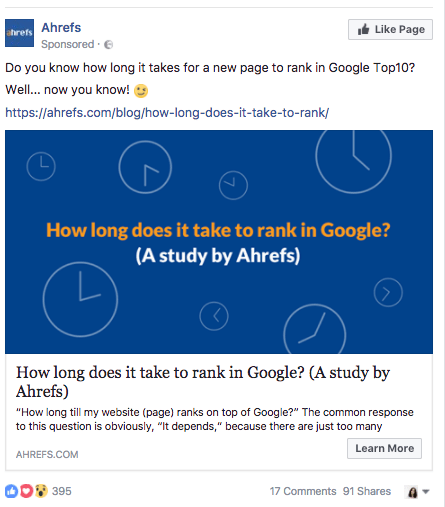 If you look at the ad, you automatically know it is not meant for conversion. Ahrefs is trying to promote a blog: How long does it take to rank on Google? A study by ahrefs.
Ahrefs is adding top of the funnel traffic to its website

The ad ensures anyone clicking on this ad is definitely interested in SEO. So Ahrefs is bringing in high-quality traffic on its website

Ahrefs can then retarget these people using a variety of methods
No doubt it is one of the leading SEO tools in the world! A shining star in SaaS examples.
Ad Example #2:
Slack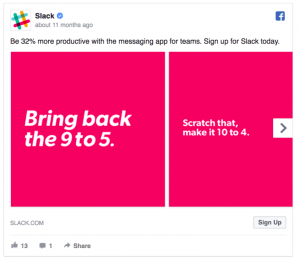 Slack is a free team communication software that allows people in a team to send out messages quickly to each other.
Instead of asking people to buy, Slack uses Facebook carousel ads to tell a story The ad copy is 32% more productive…tells you the clear benefit of using the product. (Note: Slack didn't talk about its features at all). Slack makes itself different from other visually appealing product ads examples. By being different, they are able to make users stop and grab their attention.
Ad Example #3:
Vaizle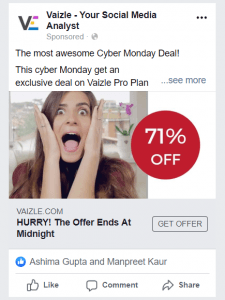 Vaizle is a social media analytics tool that allows you to analyze your and your competitor's social media performance.
Even if the users don't know about the tool, the depiction of the offer with a surprised lady is unusual. And that's what makes people click.

The ad is plain and simple. It simply shows the offer. Probably, they might be using it for retargeting the audience assuming they already know about the product.
It is one of the best examples for SaaS to make a catchy ad copy.
This one is not just a Facebook Ads example from a SaaS tool, but also an intelligent marketing methodology: Education. Instead of asking people to try Unbounce, they ask them to sign up for a course: 5 Steps to More Conversion.
This again ensures the right people are coming into the funnel. Plus, when they learn from you, they will always remember you.

The ad doesn't talk about the product at all. It doesn't even look like one of the examples for SaaS Ads as it asks you to sign up for the course.
Ad example #5:
Canva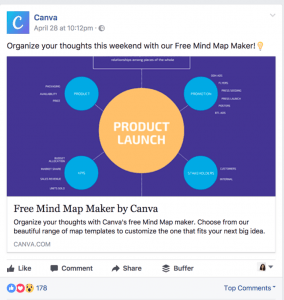 Here are two ad messages for you:
Create your design using Canva

Free Mind Map Maker by Canva
Which one would appeal to you if you're an entrepreneur?
If you're like most people, it's the latter. The first message is for anyone. Canva is trying to reach out to startup owners or enthusiasts with this Facebook Ads example. Hence, Free Mind Map Maker.

The second ad copy uses just one template of Canva and creates a use case out of it: organize your thoughts.

You can actually see what the mind map would look like in the ad.

Most importantly, it's free!
Intelligent enough to target people who can't hire designers at an early stage, isn't it? No doubt Canva is one of the best examples of SaaS products out there.
Ad Example #6:
Asana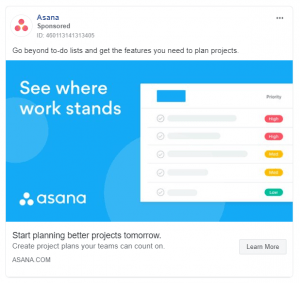 Asana is a project management tool where you can collaborate as a team and see the progress of your projects.
It is one of the Facebook Ads copy examples that I personally like. Because it talks in the language in which people speak: what's the progress, what's the status of the work, or where does the work stand.
With an illustration of the Asana dashboard, the ad shows what the product looks like. And it certainly looks simple enough in the ad.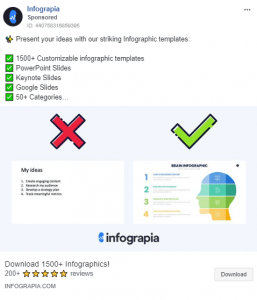 The offering is simple: thousands of infographics templates compatible with PowerPoint, Keynote, and Google Slides.
How do you communicate that? By saying exactly that in the ad.
Using the green tick emoji, they convey everything there's to the product

The ad creative is a comparison of an Infograpia slide vs a slide you create. Spot on!

And the 200+ reviews in the ad description make the whole ad experience perfect
It is a perfect SaaS example that is sure to inspire you.
Ad Example #8:
Buffer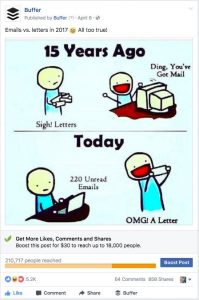 Most SaaS companies shy away from engaging with their customers casually. But why?
Well, it doesn't go with our brand.

We cannot crack a joke with our customers.

It sounds too unprofessional
Look at that ad from Buffer and think twice. The font of the creative doesn't go with the font on the website. The graphics are too meme-y, you know.
But it has 858 shares!
Here's what you can learn from such product ads examples:
You don't have to be serious all the time. Reach out to your customers with jokes, puns, and even memes. They will love it.

Don't be too critical about brand voice all the time. Sometimes a creative like the one Buffer used does more magic than the one created after a well-crafted creative brief.
Moving along the journey for inspiring examples for SaaS product ads, the next one is quite insightful.
Ad Example #9: Shopify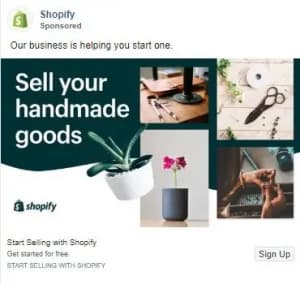 If you have talked to the Facebook Ads team, you will know they talk a lot about prospecting ads.
Prospecting ad campaigns are the one that aims at building an audience and generating interest in your product.
Shopify has done an excellent job with this Facebook ad, talk about superb ad copy examples. First, there's the creative banner, which prompts you to conceive and envision your future idea, making you feel motivated to act. Second, the call to action is simple and direct: "Start selling with Shopify."
The banner design is not only appealing to the eye, but it also effectively depicts the most popular handmade items for sale.
Of course, including the word "free" will undoubtedly catch the audience's attention. Aren't we all suckers for freebies?
Here's what you can learn from this ad: Creativity for the win. No doubt your product is one of the best in the market. Now create a stunning ad and put it on social. Again one of the top examples of SaaS social media Ads.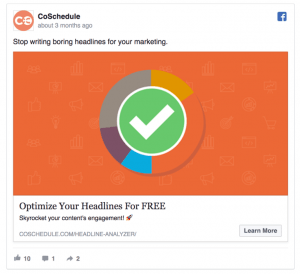 I once heard Neil Patel telling why creating free tools is one of the best SEO strategies. It gives you loads of high-quality traffic, free backlinks, and potential leads. That's what he's actually doing with Ubersuggest.
CoSchedule did that too. And using it intelligently with their social ads strategy.
CoSchedule free headline analyzer helps you to rate your headlines quickly before hitting publish. They are also promoting it in ads to bring high-quality traffic. Because whoever is using it is definitely a marketer. So what's our takeaway from such product ads examples:
Promote free tools via ads to bring high-quality traffic

Just promote the free tool and not the actual product. You can retarget these people in several ways.
Ad Example #11:
Heap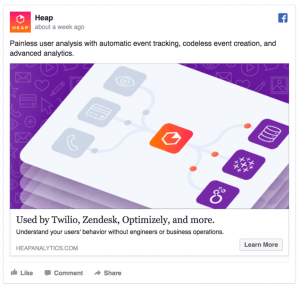 It's common when you pitch someone for your SaaS tool and they hit back with:
"Who else is using it?"
Or even better:
"Who else is using it in my industry?"
Heap address that in the ad itself.
The ad reads, "Used by Twilio, Zendesk, Optimizely, and more."
Such ad copy examples quickly communicate trust and reliability. So tell your users who else is using your tool.
When you do this, make sure that's the focus. For instance, there's nothing in the ad creative itself. All you can see are brand colors and a Heap logo at the center.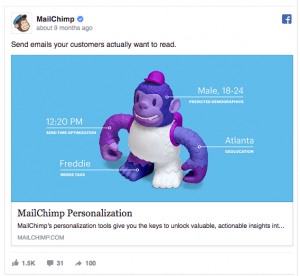 What if your ad could communicate everything there's to your product–without having to write it explicitly?

With this ad, MailChimp achieved exactly that. Finest SaaS examples.

Instead of promoting the whole product (email marketing tool and automation), MailChimp focused on just one feature: Personalization.

To illustrate that, it simply showed the variety of personalization you can do. Namely (also evident from the ad), demographics, time, geolocation, and tags.

Personally, I don't think it could be better.
Ad Example #13:
Oribi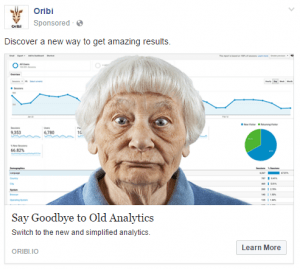 Oribi is a web analytics tool–an upgrade from Google Analytics. And they communicate it perfectly. To tell that Google Analytics is old, they actually used an old man's face, with Google Analytics in the background!

I don't think it could any better for the best ads on Facebook.

Be unconventional with your ads. See how you communicate about your product with your customers and the internal team can be depicted in an ad. I guess that's what Oribi did here.

The ad copy is so simple that it could have been rejected for being too 'plain' and 'boring'. But combine that with the creative, it's killer.
Ad Example #14: Pipedrive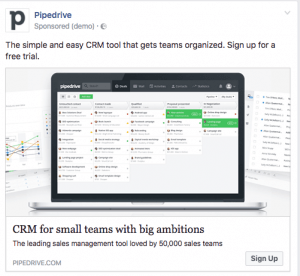 If you're confident about your product, why not show it how it actually looks. Pipedrive shows how a sales pipeline look in their dashboard with a laptop mockup. Again one of the SaaS examples that newbies look up to. Here is our take on such product ads examples:
Don't tell them. Show them. Apply this mantra to Facebook ads too and you have a great ad. Also, notice how Pipedrive shows there's more to them by showing random graphics in the background
Although Facebook has stopped showing descriptions now for ads that they find irrelevant, in this ad, Pipedrive was straightforward. You can see 50,000+ sales teams are using it. And that's what makes it the perfect product Ad example.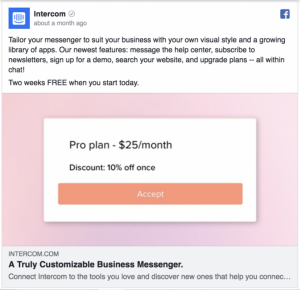 Intercom is an all-in-one customer communications platform designed for sales, marketing, and support.
What makes Intercom's ad stand apart is that it looks like a website CTA – nice idea indeed!
It also mentions a quantifiable benefit of their product.

This Facebook Ads example holds a promise of solving a customer pain point. Every marketer uses tonnes of tools for various platforms. Intercom shows a shining beacon of hope to unify them. A dream for every marketer or sales team!
Simplicity is the key. Straight-up sales messages like this one are still effective as long as they're relevant to your audience.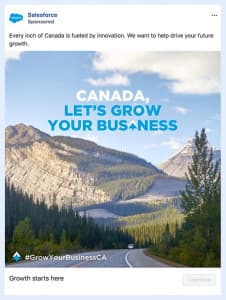 Salesforce is among the top gun in the market of CRMs. It has various applications focused on sales, customer service, marketing analytics, and automation. Since we are listing Facebook Ads by SaaS examples, it would be incomplete without listing Salesforce.
They understand that Facebook goes big when it comes to targeting and personalization. Yes, even more when it is Saas and when it comes to location.
Key Takeaways:
It's a proven truth that personalization converts. Don't try to appeal to multi ple audiences at once. Instead, design various campaigns for different people or utilise dynamic ads to offer targeted ads at scale.

Create ad creatives that convey to each lead that you're thinking about their specific needs. Instead of trying to cover everything with one marketing campaign, create distinct ones if your product serves multiple objectives to different consumers.
Conclusion
Many of these lessons can be taken from other industries, but B2B SaaS examples are a bit different. You know it if you have run one or been a part of its marketing team. For instance, showing product in laptop mockup and product illustration, it's the best way to demonstrate the product.
Similarly, Ad copy examples using a funnel-based approach and running prospecting ads can help you bring the right people to your website.
Hope you liked it and find B2B SaaS Facebook ads examples valuable for your own SaaS company.
If you think you've run a great ad for your SaaS company and people must see it, send it in the comment below and we will add it to this blog post.