Facebook, Google, and Amazon dominated digital advertising spend in 2019. And will continue to do so in 2020. Combined with Amazon, these two companies are getting 68.1% of all digital ad spending in the US.
However, in the past ten years new options have arrived–starting from Quora Ads, Twitter Ads and LinkedIn Ads to Snapchat Ads and TikTok Ads. Chances are that these platforms will continue to take the ad spend away from the big three of digital advertising.
Among the new entrants, with Quora Ads have become exclusively popular among all kinds of businesses. Even though its self-serve ad platform is barely two years old, it is giving good returns to Quora advertisers.
According to the 2019 State of Paid Social report, the number of marketers investing in Quora has grown nearly 4x since last year. According to the same report, 31% of marketers are invested in Quora Ads in 2019.
Quora's ad team has continued to bring innovation to their ad inventory and coming up with exciting products. Quora currently boasts of over 300 million monthly users worldwide. Half of them are coming from the USA. It basically means advertisers have this huge audience to tap while they are searching for answers to their queries or reading a topic.
In this blog post, I choose to show you why and how Quora Ads can be a great addition to your digital media plan considering it is relatively new. In the second half, I will also show you all the ad and targeting options available on the platform and how you can use it for your business objectives.
But first…

How Quora Ads is different from Facebook Ads or Google Ads?
#1 It covers both intent and interest-based targeting.
Quora has changed the way we look at question and answers. Although there were many platforms who tried it (remember Yahoo! Answers?), they couldn't become as successful as Quora did. Users asked and user answered questions themselves. Reddit tried it as well and has a strong community, but Quora went to other countries and now you can find answers to questions about traveling in local trains in the city of Mumbai in India.
So readers are basically:
either reading about a specific topic.

Or they are trying to find answers to questions
The second one is extremely powerful because Quora questions rank really well on the search engine.
So while you're reading about a topic, you're following your interest. However, when you're looking for answers (for instance, when you searched a question on Google and landed on Quora), you have a strong intent too.
Guess what?
You can show your ads in both the scenarios.
While Facebook Ads is interest-based and Google Ads is intent-based, Quora Ads kind of cover both the aspects of advertising: interest and intent.

#2 You can target very strong intent…and past intent
If I tell you a user is reading a question about the best social media management tools on Quora.
And you can practically place your ad just below it, would you try?
I have used it in almost three pitches in the past one month, and if you're like them, you'd say yes too.
The intent captured here is extremely strong. You are no more concerned about removing negative keywords the way you have to do for the Google Ads. The intent is very very strong.
What if I could tell you that you can target someone who was searching about topics related to your industry or competitors last month or last week? Quora allows you to do that. More on this later.

#3 Bounce rate from Quora is lower as compared to other social platforms
So here's a screenshot from the traffic we have had for a client in the past one month.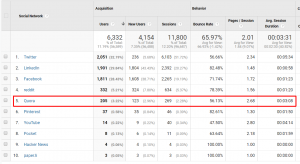 Check the bounce rate on Quora Ads.
This conveys the whole picture. If you're looking for high quality traffic, Quora gives you that. At the same time, the number of page views per session and average session duration from Quora is exceptionally high for a B2B business perspective.

Why you should do Quora Ads in 2020?
#1 It's new (that means less competition)
How is new an advantage?
Any new advertising platform is a great opportunity. A new ad platform has less advertisers. What it really means is that you have less competition.
So if a user is being targeted by other advertisers, many of whom are not even your competitors (and it all adds up to a big number), you're paying more to show your ad. When this competition is low, which is the case with a new ad platform, there are few advertisers.
Ask any person who adopted Facebook or even Google Ads in its early days will tell you how CPC and CPM has risen exponentially over the years.
This is the right time to start testing your media budget on Quora Ads.

#2 This is the time you can own it
One of the success of Amazon in the 21st century was how it practically owned the search engine's real estate.
If you've run an eCommerce business, chances are that your ads ALWAYS compete against Amazon. Between 2001 and 2010, Amazon perfected their search ads strategy. One factor that worked in their favour was that no one was so keen on doing that. They were ahead of everyone in almost all the search terms.
Even if you are not looking for scaling, you can own your niche because the competitors are less.
If you have used a social advertising platform, chances are you can get familiar with Quora Ads really quickly.
How to do Quora Ads?
If you have used a social advertising platform, chances are you can get familiar with Quora Ads really quickly.

How to create ad campaigns in Quora?
The first step is to create a campaign and choose your objective. Like other self-serve ad platforms in its competition, Quora allows you to create campaign to achieve:
Awareness

Traffic

App Installs

Conversions
You can also choose the ad budget at this stage instead of setting it at the ad set level.

How to create ad sets in Quora?
Quora allows you to target at the ad set level. Basically, you decide who to show your ads to.
When Quora Ads was launched, it had limited targeting options. Right now, it's offering four:
Contextual Targeting:

Target people based on

topics

,

keywords

, and the actual

questions

.

Audience Targeting:

Target audience that you have built over time from your customers, user actions on the website, or your subscriber's list.

Behavioral Targeting:

Target people based on their interests. You can even target people based on their past behaviors. Quora does that by allowing you to target people who in the past 30 days visited a specific topic or question.

Broad Targeting:

Target people genetically based on their location, age, device, and platform.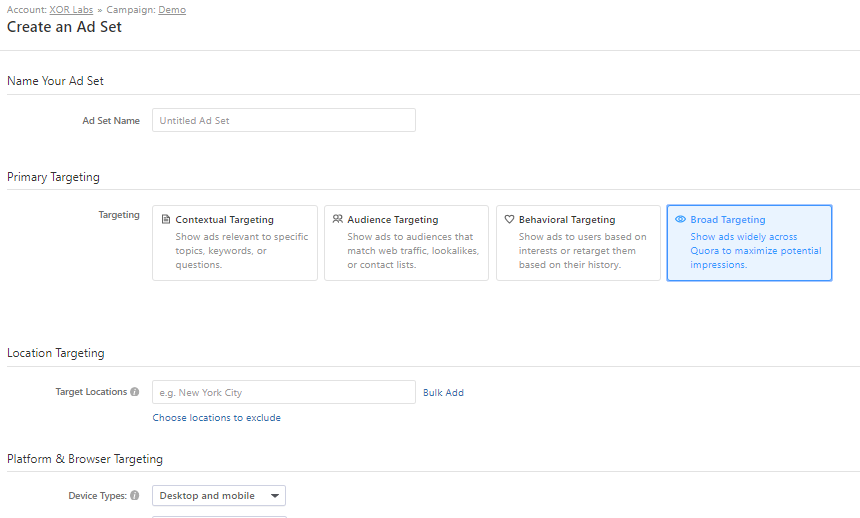 You can even exclude audiences you don't want to show your ads too. You can do this by adding the questions you want to avoid or excluding custom audiences you had created.
Also, you can show ads in the Quora Digest emails which it sends to the users. So if you have targeted a user who follows 'games' topic on Quora, he will see the ad in his inbox. You can activate or deactivate this option by clicking a checkbox.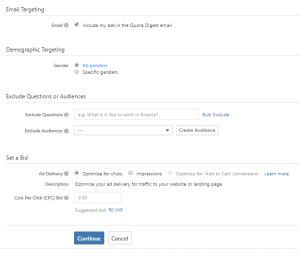 How bidding works on Quora Ads?
You also decide the bidding on the ad set level. Based on the campaign objective, Quora Ads allows you to choose different types of ad optimization. This in-turn allows you to choose the bidding.
For instance, if you are using a 'Conversion' objective campaign, you can optimize your ad delivery for either click, impressions, or the conversion event. And if you choose click optimization, you can bid for CPM (not CPC).
Here's a table which maps campaign objectives with available ad optimizations.
| | |
| --- | --- |
| Campaign Objective | Ad Delivery Optimizations |
| Conversions | Clicks, Impressions, Conversions |
| App Installs | Clicks, Impressions, 'App Install' Conversion events |
| Traffic | Clicks, Impressions |
| Awareness | Clicks, Impressions, Conversions |
How to create a Quora ad?
Quora allows three different types of ads on its ad inventory:
Image ad

Text ad, and

Promote and answer
Here's how a Quora image ad looks like.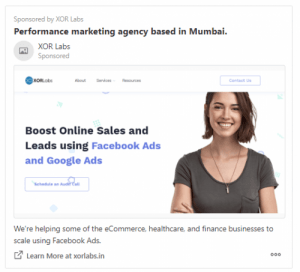 It has the following elements (in the same order):
Business name: Character limit of 40

Headline sentence: Character limit of 65

Body text: Character limit of 165

Call to action: There are almost 16 different options available ranging from 'Apply Now' and 'Contact Us' to 'Download' and 'Sign Up'

Image: Recommended ratio of 16:9 and a minimum size of 600 x 335 pixels

Landing page URL: Character limit of 1024

Display URL: Character limit of 30
In the text ads, the options for image and call to actions are not available.
Here's how a text ad looks like.

Lastly, creating an ad to promote an answer is extremely easy. You just need to add the URL of an answer. Here's how a typical answer promotion ad looks like once you add the URL.

Setting up Quora Pixel and Tracking Conversions on Quora Ads
By going into Pixel and Conversions tab on the dashboard, you can begin setting up Quora Pixel. You cannot create a conversion without setting up Quora Pixel. Plus, to create 
You can install Quora Pixel in either of the two ways:
Manually by sending the pixel javascript code to your developer, or

By using Google Tag Manager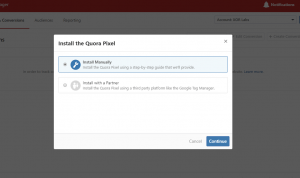 Once it's done, you will start noticing pixel status as active with a green dot in the dashboard.
That means, you can now create conversions.
To do that, click Create Conversion and:
Enter the name of your conversion event

Choose

Category

of the conversion event. Quora provides nine types of conversion events:

Generic, Purchase, Generate Lead, Complete Registration, Add Payment Info, Add to Cart, Add to Wishlist, Initiate Checkout, and Search

.

Then choose the URL on which the conversion is completed.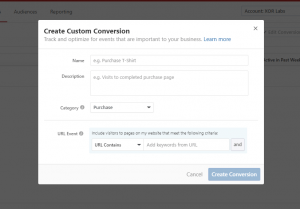 How to create retargeting and custom audiences in Quora Ads?
You can create audiences in Quora by going to the Audiences tab.
Quora allows you to create audiences in three ways:
Website traffic:

Use the people who visited specific web page or fired a conversion event to create a retargeting audience

Lookalike:

Create a lookalike of audiences that you have already built

List Match:

Use the email address of your customers or your subscribers to create a retargeting audience.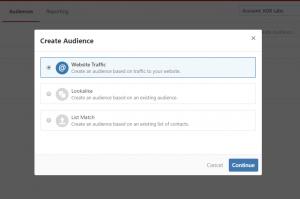 Conclusion
Although I have tried to paint a picture of how you can use Quora and why you should even use it, I recommend you to have a documented plan and a testing strategy.
The way LinkedIn ads is suited for certain businesses only, Quora Ads might not work for all types of businesses. That said, we have been deploying it for finance and healthcare industry with fairly good results.
Do you have more questions about Quora Ads? Please feel free to write your view in the comments section below.