Google Analytics bids Goodbye! Say "Hello" to GA4.
First of all, many marketers are confused if you should switch from Universal Analytics to GA4 Google Analytics?
It is a big fat YES from us.
Because over the decade, more customers are favoring the use of mobile devices for browsing and shopping rather than desktop websites. How could something that was launched in 2013 keep up with such a paradigm shift?
You cannot expect to get true and complete data from something built to track website data. That's also when Universal Analytics, the current generation, will stop processing data. Setting up GA4 now offers greater data and organizational comfort, ensuring that your company is ready when Google flips the switch.
So, what is Google Analytics 4? GA4 Google Analytics is a new analytics platform by Google that measure traffic and user engagement across your websites and apps.
The Xorlabs Team has been using GA4 since its inception. Hear from our Google Analytics expert to better understand GA4 for your business for a seamless migration.
Technical differences between Universal Analytics v/s GA4.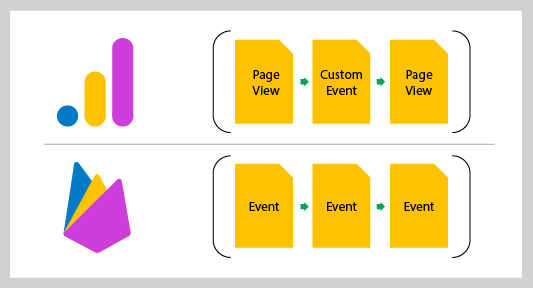 Universal Analytics collects data based on sessions and pageviews. Analytics data is sent in the form of page view hits and event hits, with some basic Ecommerce data sent as transaction hits.
On the other hand, Google Analytics 4 uses a data collection model based on events and parameters. All data sent to GA4 has adopted the firebase model in the form of events.
Major differences between Universal Analytics and GA4
There are many significant changes in terms of dashboard view, reporting, Audience lists, etc in GA4. We will successfully cover all the major changes in short focused videos to navigate the up-gradation from Universal Analytics to GA4. In this video, our GA4 expert talks about 2 major changes in how GA4 is different from Universal Analytics.
GA4 is Device Agnostic
Now you can send multiple data streams from your Android, iOS, and your desktop websites to a single source.
Earlier, Universal Analytics was used to track websites, Firebase Analytics for Android Apps and a whole other separate analysis account for iOS devices with Firebase for iOS.
Now, GA4 allows you to do cross-device tracking in a single interface. Gives you a better holistic overview of what is happening.
New data collection model
GA4 uses an event-driven data model. Universal Analytics' underlying model of page views, hits, and sessions has changed and been replaced with a system of events, parameters, and user properties.
Events as standardized data collection parameters across devices. Events can be anything like Page Views, Scrolls, watching a video, etc. GA4 gives the freedom to make event tracking more conceptualized by adding parameters.
Follow or channel XL Academy by XOR Labs to watch the next series of short, focused videos to better understand GA4 vs Universal Analytics.