This article is a second part (The Story of Marketing) in the series of four articles which tells the success story of one of India's biggest consumer brand. It's our way of celebrating the the power of Indian entrepreneurs and their perseverance. You can read also the first part.
 "We don't know markets or marketing . . . but what we know is serving the people by providing them high-quality products at attractive prices" says Acharya Balkrishna, Co-founder, Patanjali
And it shows in their ads.
Let's see how:
The TV commercialsthe one that's explicit.
With changing times Patanjali appointed an advertising agency. Patanjali had hired two top advertising agencies McCann and Mudra for the next phase of growth.Â
However, throughout the growth of Patanjali from a small village endeavour to a billion dollar company, Baba Ramdeb was at the center stage. The success story of Patanjali is also a success story of Baba Ramdev.
Here's an insider look into their marketing strategy.
1. A huge fan base
Ramdev had garnered a lot of people by his Yoga and Asanas making his job and that of marketing easier as people were already convinced by his previous activities and had belief and trust on him.
2. Always in the news
Be it for the 2011 anti-corruption andolan or in support of Lokpal Bill, I haven't seen a week passed by without Baba Ramdev's buzz. This helps him gain brand visibility. There are some brands which are known by the face of their founders. Like Steve Job's Apple and Richard Branson's Virgin Group, Patanjali is identified with the face of its founder.
3. Content marketing
Yes, you heard it right! Content marketing. It's the new marketing principle to educate your customers and Baba Ramdev and his team has been on the forefront.
After every Yoga session on TV Acharya Balkrishna educate people on the benefits of herbs and their application for different diseases. Having discussed all this, he then tells people about the products of Patanjali which contain them.
There you have it, the example of content marketing
4. Smart Pricing policy
Since the production and promotion cost is less than what a new company in the business usually spends it automatically lessens the product cost .Now who would not like to buy herbal natural products made in india which look expensive but dont burn a hole in one's pocket?
5. Social Media
"Wait! What!! When did he use it?"
Baba Ramdev has over 10 million followers on Facebook and over 2 million followers on Twitter as of Sep 2019.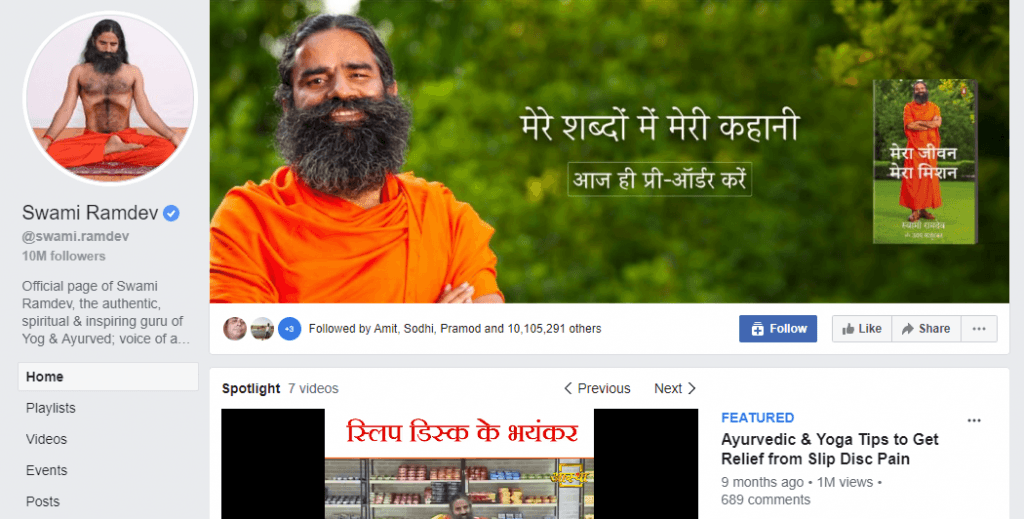 Who would not use such a fan following for information and promotion?
Not only is he present, his Facebook and Twitter pages are active. His posts are full of good content about Yoga and Ayurveda. Plus, he doesn't shy away from engaging with audience across all matters important to them.
He also engages with his customers. He interacts with his followers on Twitter and Facebook by organizing live chats and also uses it as a medium to invite and inform them to his camps, events, product announcement, and more.
And to top it all now they have a very well built an eCommerce site too.