This article is a first part (The Story of Birth) in the series of four articles which tells the success story of one of India's biggest brand. It's our way of celebrating the the power of Indian entrepreneurs and their perseverance.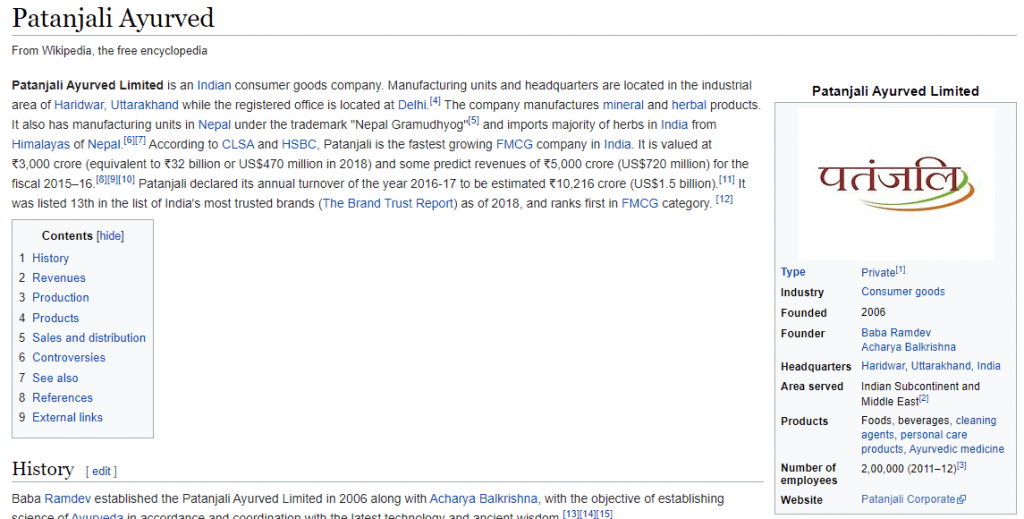 Patanjali (noun):
"An Indian FMCG started in 2008 by Baba Ramdev and Acharya Balkrishna. Located in Haridwar this company has claimed a revenue of Rs 5000 crore, making the top names in the game sweat."
I still remember waking up in my grandmother's home to the voice of Baba Ramdev addressing thousands of people on a TV channel. He would tell them how to do yogic exercises and complementary tips to stay fit.
Almost 10 years later, I visit my grandmother's house and find Baba Ramdev's presence in another form, Patanjali Ayurveda. And this is happening in a house which had Head & Shoulders, Pears, Maggi, and products from all the top FMCG brands in the world.
But this fact, it's all in the news.
For marketers and strategists, it becomes really important to understand how and why it all happened.
While many Indian brands had struggled in the past, how come Ayurveda made its mark and giving top brands a run for their money.
Where did Baba Ramdev come from?
No company can run without a vision. Baba Ramdev as a visionary leader wants to bring back Swadesh in India by his yoga practices and herbal products in pursuit of a brighter and healthier nation.
He wanted people to see that our ancient medical science is effective even in the 21st century and people connect to his vision.
According to Malcolm Gladwell, if one wants to be successful in a skill, it needs to be done for 10000 hours. And there's no denying Baba Ramdev has done it way more than that.
He might be known for his overnight success, but only a few know about the amount of training he has gone through to be here. After leaving the Macaulay education system, the yoga guru started the Indian Vedic education system in the Gurukul of Kishangarh and Kalwa.
He spent many years studying ancient Indian scriptures and practicing meditation and self-discipline. He also taught many villagers across Haryana when studying at Kalwa Gurukul before coming to Haridwar and started preaching Yoga.
Rest is history.
Struck the hammer when the iron was red hot
The 20th century had initiated westernization of India. While TV was selling like hotcakes, Western influence and food made our lifestyle sedentary and unhealthy. At least that's what many Indian parents had grown up to think. That's where Baba Ramdev came into picture.
He posed yoga as a solution to many health challenges. It was the answer to a healthy lifestyle. Want to lose wait? Do yoga. Want to maintain wait? Do yoga. Want to cure diabetes? Do yoga. It was the panacea for Indian peoplethe cure for all diseases.Â
He started out by teaching yoga to the Indian audience.
First, Sanskar and then Aastha Channel broadcasting his yoga shivirs in various cities. He got a wide acceptance. He made the people realize that Indians have forgotten our old traditions and art formsyoga being one of them. Elders of the family related to this combination of spirituality and tradition and started this practice in their family too.Â
Soon, Yoga became 'Har ghar ki kahaani'. It was easy to do and was not exhausting like those running and gym exercises. It was a matter of a few years when his influence could be seen in all directions of India. With the Word of mouth publicity boosting the reach due to these benefits. Many people started claiming that they had been cured using Babaji's Yogic techniques.
This step, though unintentional, was a significant step in Patanjali's initiate.
A recent example of opportunist attitude can be seen when Patanjali launched its Atta noodles just when the leading brand in the business, Maggi, was not in the game.
Patanjali always had their hammer ready when the iron was red hot.
Built a strong community before launching a brand
Before Patanjali came into the picture, a large number of people were already following Baba Ramdev and yoga. Plus, before building brand trust, people had already built their trust on his idea. Yoga was solutions to many problems.
Even before launching his herbal and organic products Baba ram Dev had huge number of people ready to buy his product because when his yoga did wonders to them, why would his products not?
In 2008, when Patanjali Ayurveda came into market, it generated a revenue of more than 60 crores in the very first year.