As India moved into the first few weeks into the lockdown and the sales for almost all offline stores had plummeted, one store took the leap to go online.
And here's how its sales look like after 366 days since then.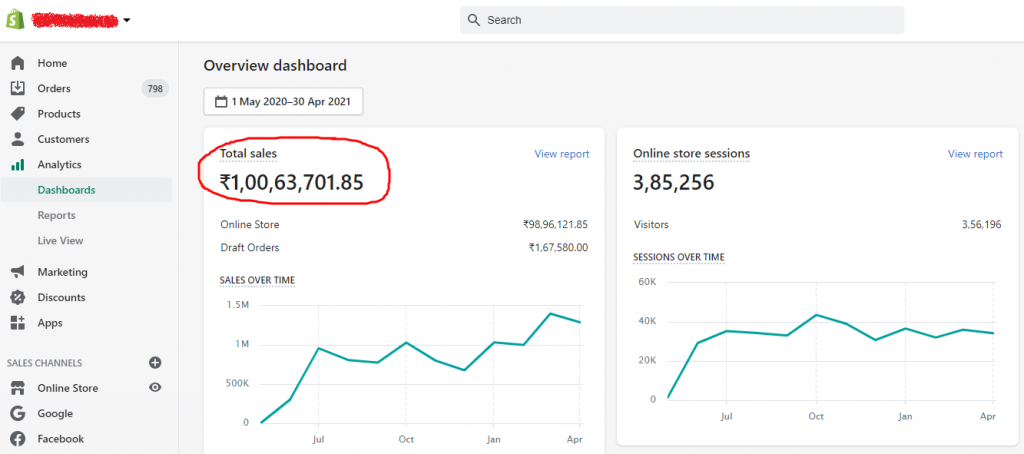 Rs 1,00,63,701.85 in revenue.
It didn't happen in one day. It took time—hundreds of hours and nights.
In this blog post, we share in brief the journey of this eCommerce store in less than 1,000 words so you can get the most out of your time reading this blog post.
How it started: May-July
So, here's what the objective statement was:
How do you take a store online during pandemic and increase its sales?
We started in May and spent our time building the eCommerce store in Shopify.
The product category: Home and Decorative Lighting.
Although selling lighting online requires great visuals and product display, it was important for us to get the store live quickly since the sales were suffering every single day. So, we simply asked the client to put the best images online—which he did by shooting it from his iPhone ?
Guess what? It was the best idea.
In the first month, we did just over Rs 3 lacs (Rs 3,01,568.50) in sales with an ad spend of Rs 70,759.02.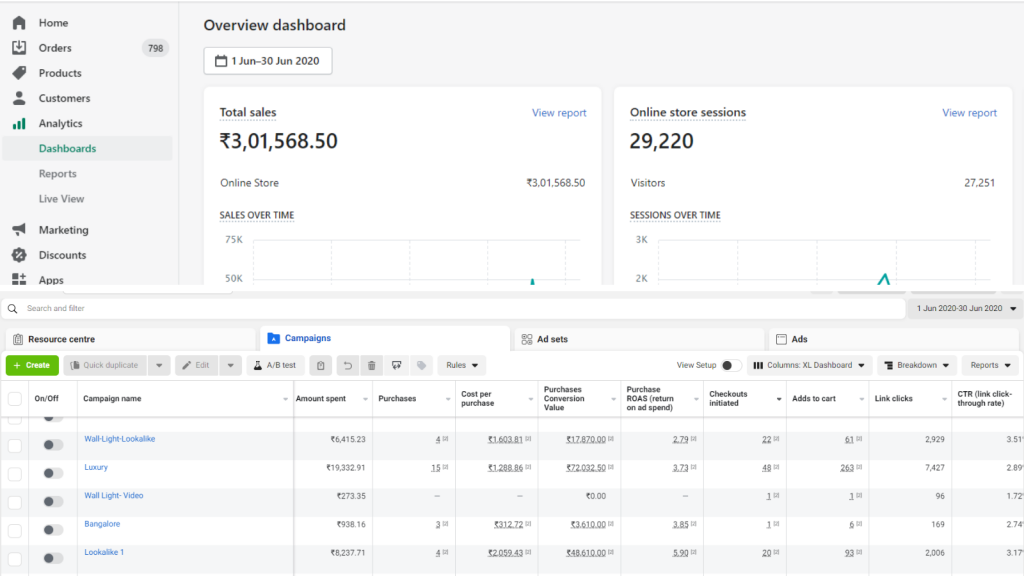 In the first few months of the campaign, instead of focusing on the product catalogue, we focused on specific products.
This is because the online store was new and the client had not yet figured out shipping its heavier items. That's why the shop also listed few products online. We picked up the products which we felt could scale and tried to focus only on them. For instance, wall lights and study table lamps which could be popular because of the onset of work from home.
A ROAS of 4.26 in the very first month? Not bad.
We extended this strategy to the second month adding more products to the promotion.
The very next month we increased our ad budget to over Rs 1 lacs taking the total ad spend to Rs 1,30,663.21
Sales increased to Rs 9,56,956.00. A ROAS of 7.32!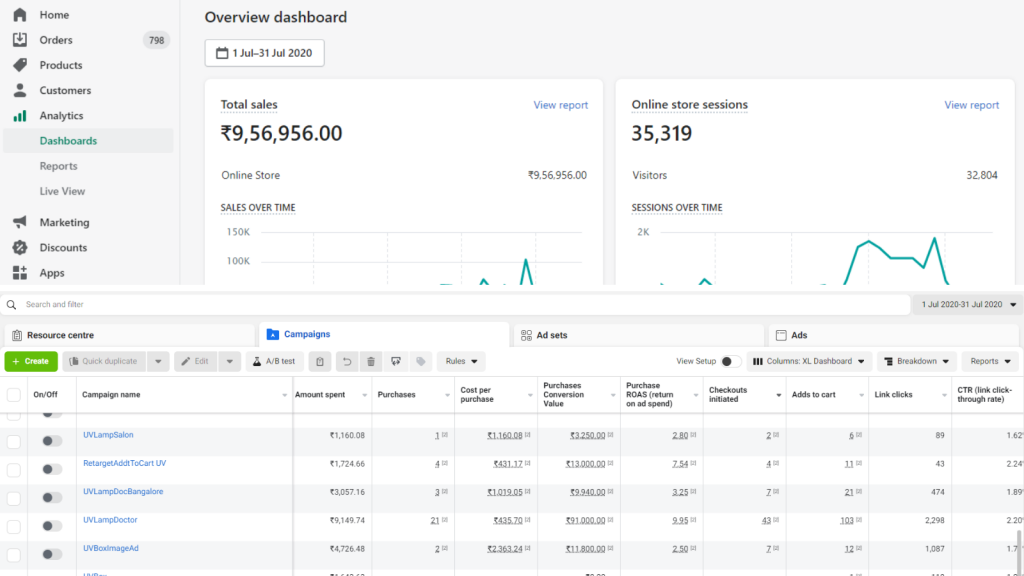 Of course, we do not take credit for all the great work. We attributed the sudden increase in performance to the pent-up demand which was suddenly unleashed as India came out of the lockdown.
The next big challenge for us was to sustain sales and ensure we started acquiring customers from other platforms too.
Sustaining Sales
So, if you already looked at the ad account screenshots above, you must have noticed that the ad account had no structure.
The reason? We were using one product at a time.
We knew if we had to maintain ROAS and create good learning for the store as a whole rather than a few products, we needed to bring structure to the ad account.
It achieves two things:
Gives better learning to the Facebook's AI algorithm about the audience
Ability to do catalogue sales (this was important since the SKUs reached over 100 soon)
We added Power 5 based account structure in the ad account around September—just before the festival season.
Yes, the sales came down for a month but we did our best (till then) in the month of October with Rs 10,28,993 in sales.
The sales again dropped after the festival month but we started adding other platforms to the marketing mix.
Eventually, we started our ads on:
Google Search
Google Shopping
Display and YouTube (for retargeting)
And the sales number kept on increasing after January and now hovers around Rs 13 lacs with an ad spend of around Rs 1.5 lacs.
Generating purchases from email—and website chat
Whenever you advertise, you see tons of leaks. People will drop off at multiple places—just after visiting a product page, adding product to cart, or maybe just before the check out.
Worst part is they either don't remember your name so they can search for you…or they have left no way to communicate.
We collected users' email if they wanted a 10% discount. The classic cliché method with great results—if you know how to use it.
Apart from setting up automation for abandoned cart, we share weekly newsletters with subscribers. The result?
We've been consistently generating at least Rs 1 lacs in sales every month from email newsletters alone.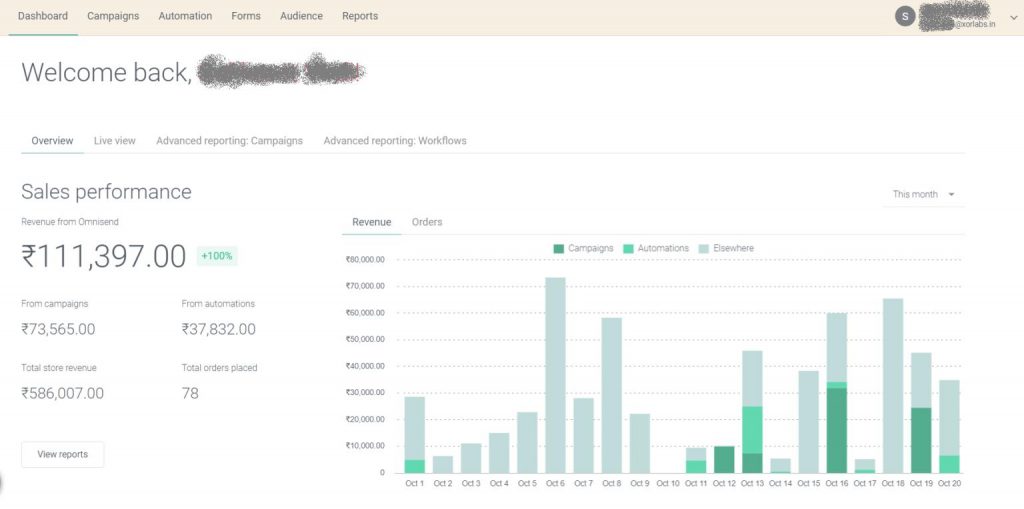 Another thing that made our results look good was the push from the client's sales team.
The chat support on the website was made available for just over 14 hours every day which assisted in many conversions. Since the product category—lighting—is delicate and expensive, people preferred talking to a sales rep before making the purchase.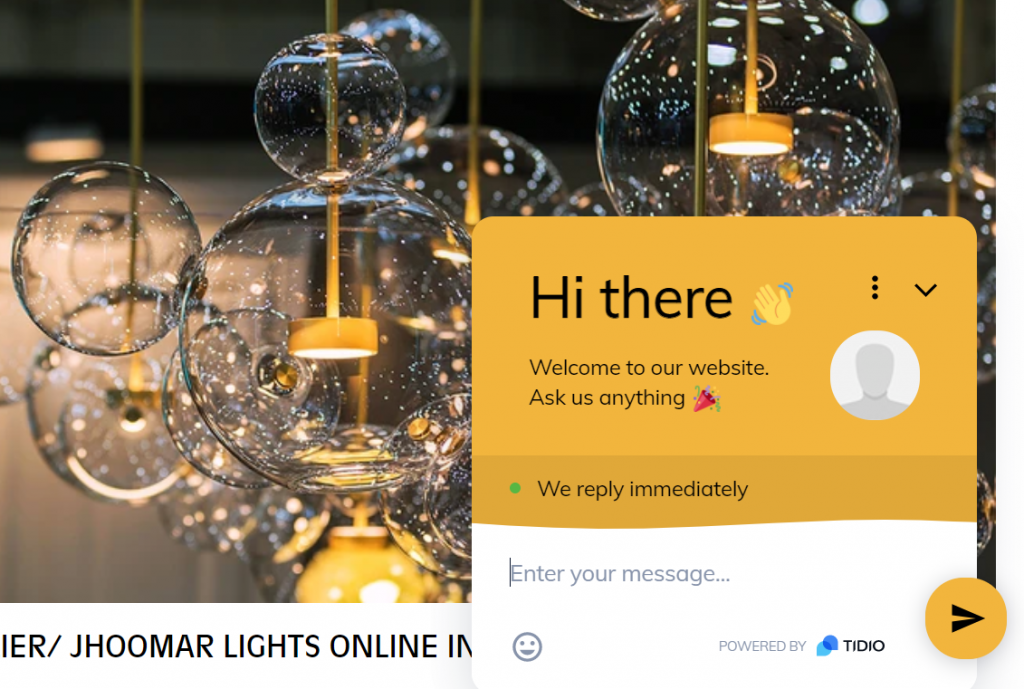 Adding partner programs
If you go deeper into data, you can always do more.
Customer's feedback suggested that they were buying products from our website based on the recommendations of our customers. They were helping their clients to order products worth Rs 50,000 on the website.
Using this info, we launched a program—after client's approval—for partnership with interior designers.
Since launching in January, the brand has partnered with 9 interior designers contributing in more sales.
PS: All the above data does not include the sales from ad campaigns which resulted in-store sales and from partners directly.
Conclusion
One year into the project, we have already sold over 1cr worth of…lights.
Among other things, this project gave us three key learnings:
People in Indian market buy over Rs 8,000 and Rs 10,000 worth of products online. (some even had a cart value of over Rs 30,000).
And this audience is not necessarily in metros. Not Mumbai. Not New Delhi. They are in Uttarakhand. Rajasthan. Himachal. And many other states which are not always a target group for luxury products.
CPMs are rising as fast as global warming. Unless you plan for retention, reducing funnel leakage, and increasing AoV, your eCommerce stores are not going to be profitable.
When you're starting out, rather than focusing on creating everything to perfection, focus on the speed. In this case, we knew people who needed quality lighting products could not wait to go outside. They needed to see products immediately.
Once you have built some data in sales in your Facebook Ads account, leverage that to optimize your campaigns—and always, always use Power 5.
There will always be drop offs. Have a strategy on either how you can reduce it or how you can reach people once they have dropped off.
If you want to learn more or know how we can help you take your eCommerce store online, feel free to reach us out.