Facebook currently has two paid tools that will help you achieve reach beyond a small portion of your fans: Boost and Ads Manager. Boost is the simplest of the two and the most accessible.
The quickest approach to increasing your reach with only a few clicks and a modest payment is to use the Facebook Boost Post button.
Facebook is still a widely popular platform used by potential fans and clients. You can reach them easily with Facebook boost posts. Let's get started with Facebook Boost Posts.
In this article, you will discover –
What is a Boost Post on Facebook?
Simply said, it's three things: enhanced visibility, reach, and ease of use – a one-size-fits-all approach for spreading your message further.
Boosted Facebook posts or promoted posts are similar to regular Fb posts. The difference is that you spend a little money promoting it to folks who would not otherwise read your organic content. It's the most basic type of Facebook ad, and it only takes a few clicks to make one.
It's a simple way to start a campaign and promote your post without ever leaving Facebook. You might announce news or a special promotion, give a crucial update or draw attention to a key post.
These postings can be a reasonably inexpensive way to easily reach more potential consumers because they appear higher in news feeds than non-boosted items and are served to an audience beyond your existing page fans.
The number of stories displayed in a user's news feed is often limited on Facebook. Even if a fan loves your page, he or she may not see all of the content you've shared. Boosting a post increases the likelihood that it will appear in fans' news feeds.
Boosted posts, unlike regular posts, may also be displayed in the news feeds of their friends who share similar interests.
The Perks of boosting a Facebook post
Here are some harsh facts for Facebook marketers:
The percentage of organic reach has decreased to 5.2%.
Simply put, you cannot rely on Facebook's algorithm to present your organic content to all of the users you wish. Just a portion of what you submit might be visible to people who like your Page.
The quickest and simplest approach to increase the number of people who see your Facebook posts is to use the Boost Post option on Facebook.
The following are a few of the main advantages of boosting a Facebook post:
You can connect with more qualified leads. By boosting a Facebook post, you can reach more people than just those who currently follow or like your Page. Thanks to the built-in targeting options, you can be certain that you are targeting the users who are most likely to be interested in what you have to offer.
A simple Facebook ad can be made in a matter of minutes. Simply select an existing post and a few options (your objective, CTA, audience settings, and more). You can get up and running in just five minutes, and everything takes place on a single screen. Even your mobile device can be used to create your ad.
You get access to analytics. You may get stats that show you how well a post performed when you enhance it. This helps you to improve your Facebook strategy over time by learning what works best for your Facebook marketing objectives.
In addition to Facebook, you can also reach Instagram users. You can select to have content from a boosted Facebook post and also show it as a boosted post on Instagram. Reaching even more potential followers and customers in this manner is simple.
How to boost Facebook posts?
Select a Fb post you want to promote. (More on how to choose a post for Boost up below.) Go to your timeline and click the button in the bottom right corner to boost a post.
You'll be asked to choose a Goal with a default set to Automatic. You can select a goal based on your business objective.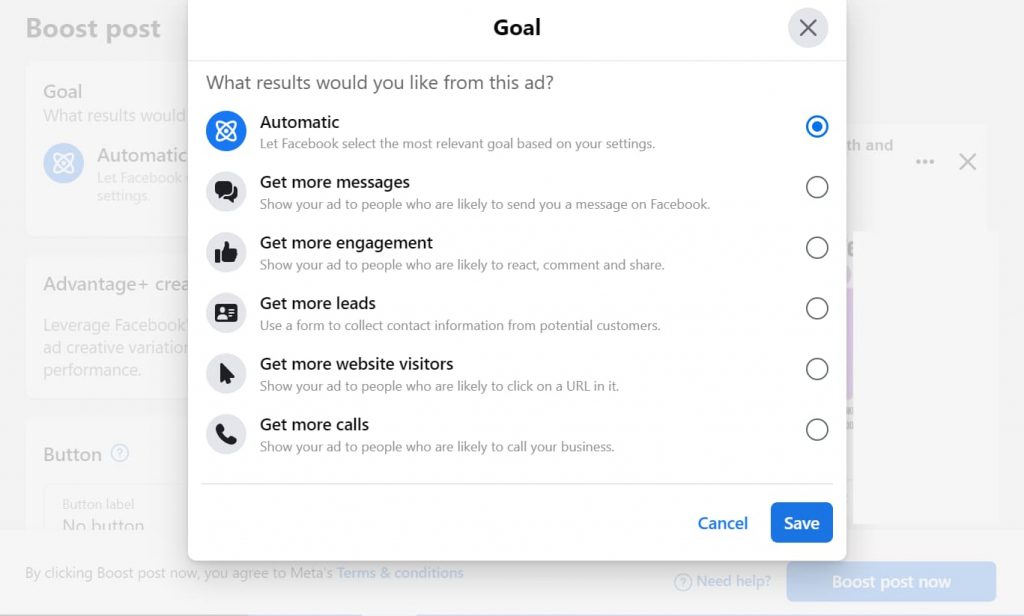 You can also set a target audience: either those who like your page and their friends, or a specific demographic (age, geography, and gender) and interest group.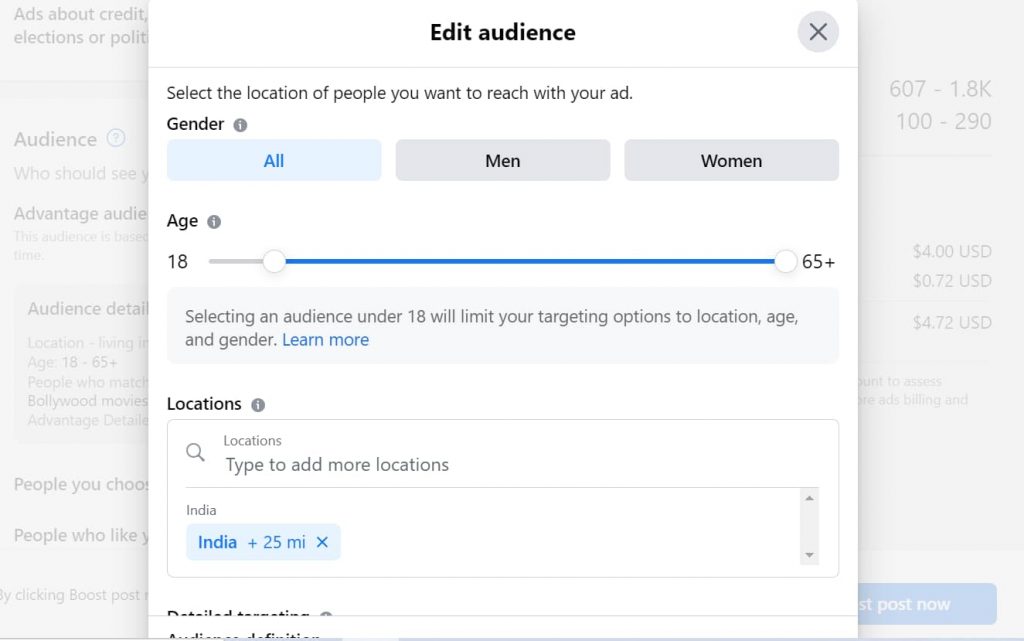 You'll get an automatic estimate of how many people your post is likely to reach when you choose a budget (minimum $1 a day) and a term (one to seven days) for the boost.
Use the toggle switch to link your ad to your Facebook Pixel if you have one set up for more in-depth analytics.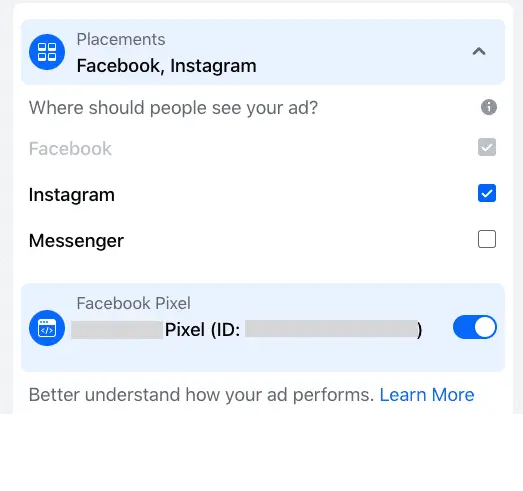 Next, choose how long you want your campaign to last. We advise launching a campaign for 7 days in order to test an initial boosting.
You should then extend the timeframe to as much as a month if your metrics are positive and you want to keep running the same campaign.
Don't forget to take a short breather to preview that everything is displaying as you wanted it to and to view the post as your audience will. Watch out for mistakes while Facebook boosting like choosing the incorrect call-to-action button or the incorrect video material.
Once you've verified your payment information, press the boost button.
Your ad will then join Facebook's ad review queue and, provided it meets Facebook's ad regulations, start running soon after.
Tracking Boosted Posts
To view detailed analytics about how a post is performed by the View Results button from any boosted post.
A crucial step in figuring out what works and what doesn't is to monitor your performance and compare them to the objectives of your advertisement. You can improve your boost post strategy over time to maximize your investment.
Facebook study indicates that tested advertisements cost less over time.
You can even track the stats of the boosted post in the Ad Manager, including likes, shares, total reach, and cost per interaction.
You can extend the term or increase the budget if the boosted content is performing well.
By looking at metrics on the Insights tab of your Facebook business page, you can determine which organic postings are performing the best and should be given a boost.
The When and What of Boost Posts
Because boosted posts have a larger audience, you should save them for your finest content, which is most likely to engage potential buyers and bring them to your website. Limited-time discounts and promotions can create a sense of urgency, while a call to action can improve engagement.
Your goal is to create engagement and relevance. Boosted posts expand your reach, so use them to create a feeling of urgency with special offers or promotions, or as a call to action to enhance engagement, along with an eye-catching image or video.
Boosting might make you feel like you're on the right track if you've never dabbled in social media marketing before. Thanks to Facebook, it's a simple and addictive approach to help you establish your brand when you're just getting started.
Although there is no hard and fast rule about when boosted posts perform best, DTC eCommerce companies will get the maximum engagement with boosted articles during the workweek.
While it may be tempting to boost every post, this may saturate and possibly overwhelm your fans and potential customers' news feeds. Instead, evaluate the stats to see which of your promoted pieces is gaining the greatest traction with your audience. Then devise a method for boosting posts of comparable categories or at similar times.
When you want to grow your audience or create a community, Boost is the way to go. You're not looking for conversions; all you want is for people to comment on, share, and watch the video, which boosting accomplishes. You can convert people from fans to customers if you provide good content.
Make sure you're only boosting high-performing posts that are especially relevant to your business and promoting interactions, such as website visits, conversions, and purchases, when you're going to push the boost button.
Best Practices for Boosting a Post on Facebook
Boosting allows you to target diverse interests and behaviors. Anyway, get the best out of your boosted post by following these Facebook boost post tips:
Design for interaction
When promoting a Fb post, you want to get as much interaction as possible.
Millions of people use Facebook every day to interact with businesses, and the majority of those people do so on their mobile devices, so it's only natural that marketing efforts be optimized for mobile across many digital platforms.
To make your Facebook page a success, you'll need to know how it looks on a mobile device, make sure people can discover you by searching, conduct your research on what content generates the most interaction, and respond to things on your page as quickly as possible.
Boost for social proof
You want your ad to succeed whether it's polished or not when you're running it. Social proof is one approach to increase the likelihood of a post's success.
It appears to be a human requirement that when making a purchase, we want to be confident in our decision. We read reviews, purchase products after watching cosmetic tutorials and seek professional guidance before purchasing gadgets.
The engagement tracked on a Facebook post is referred to as social proof: views, shares, reactions, and comments. These are the elements you want to include in your postings to indicate that they are relevant to others.
3. Leverage friends of fans
People are most likely to try something if their friends already use it.
When customers interact with your page, their friends will see the activity in their newsfeeds. You may also encourage greater involvement by utilizing polls and asking followers to answer questions.
Social media is the new "word of mouth". Keep the option of tagging hassle-free for people to be able to tag your business when they're talking about you.
Your customers are your best marketers.
You can also host unique events and limited-time promos for boosting your business, which you can invite your followers to, who can then invite their friends.
4. Understand all available options and limitations on Facebook
Before you hit the "Boost Post" button on Facebook, make sure you've gone over the preceding points to see if boosting a post is the best course of action.
Facebook has a number of advertising choices available. While it's simple to promote a post and move on, it's crucial to understand your options and see if there's one that's more suited to your target audience and goals.
If you want to gain more "Page Likes," for example, Facebook has a "Promote your Page" ad on how to promote a Facebook page. This form of marketing is far more effective than boosting a post at gaining "Page Likes."
But be wary that on September 15th, 2017, Facebook discontinued the ability to target certain ad formats via boost posts. The goal behind this was to provide advertisers with ad formats that increase engagement and to phase out those that did not meet the requirement.
5. Choose the right post
I've mentioned it before, but it bears repeating: employing a high-quality image or video is critical, and marketers will continue to expand their investment in video in 2022.
When selecting a post for boost up, the image or video will be the first thing viewers see, especially if they are unfamiliar with the brand. It must be both appealing to the eye and intriguing to the reader.
It's critical to examine post results in the Insights tab on the Facebook company page to see if a particular post has performed well enough to boost.
Marketers may discover which posts have the highest "engagement rate," or the percentage of people that interact with a post, by looking at the data in the post results. Having an effective Facebook boost plan requires identifying and deploying these high-performing posts.
6. Determine the optimum time to promote a post
Another consideration for promoted posts is the time of day. According to the market study, the optimal time to post on Facebook on weekdays and Saturdays is between 1 and 3 p.m.
Knowing what days and times their audience is online should be standard knowledge for companies that have been actively maintaining a Facebook account. For companies that haven't made that decision yet, testing posting at different times of the week can help them figure out when their users are most engaged and when they aren't.
Businesses should focus on boosting activity at these times once they've figured out the optimal time to enhance a post to increase its effectiveness.
7. Set a strategic aim for yourself
First and foremost, it's critical to consider what results are expected from boosting on Facebook. There are a variety of reasons to enhance a post, including:
Increasing brand recognition
Increasing brand loyalty (Shares, Comments, Likes)
Increasing the number of visitors to your website
Promoting fresh blog entries or content
Companies can spend money quickly by boosting Fb posts, so having a precise purpose in mind is essential for getting the most out of that money. The above pointers will detail how to use Facebook-boosted posts to achieve these objectives.
Conclusion
While it may appear that boosting a post is as simple as pushing a button, there is a lot more to think about in order to get the most out of it and see results. Advertisers must understand who they are targeting, their goals, and why people should care about the content to avoid irrelevant clicks and visitors.
Boosting a post is a terrific approach to increase visibility and reach to targeted audiences in today's Facebook world, where organic reach is shrinking. However, in order to maximize the potential opportunity, it is critical to have a well-thought-out strategy in place and follow the above Facebook boost post tips.