Want to increase your D2C business's subscriber count while lowering churn? Email marketing is the most effective tool you have for reaching these objectives.
Let's look at some statistics to see how effective email marketing is:
Customer acquisition via email is 40 times more effective than via social media.
You may expect a $38 return on investment for every $1 spent on email marketing.
Email is still the major client acquisition and retention channel for 81% of small businesses.
60% of the recipients proceeded to make a purchase after receiving a marketing email.
28% of US online consumers subscribe to emails to be informed about brands.
D2C businesses and eCommerce brands in India take a totally different approach to email marketing than others. In this post, we'll go over the basic email marketing tips that any new D2C business should implement if they want to grow their subscription business and decrease churn.
Capture: Increasing the Size of Your Email List
Set an Email Rhythm
Trying to figure out how many emails are too many? Your ideal email frequency is determined by your company's goals and target audience. When determining your email frequency, consider the following three factors:
How often do you have anything interesting to share with your audience? – All of the emails you send to your customers must have some value, whether it's a new announcement or a discount.
What are your competitors up to these days? – You can sign up for your competitor's email list to observe how often they send emails and use that as a starting point.
What do you sell and how big is your company? – It makes sense to send daily emails to your clients if your business includes delivering large discounts to them on a daily basis.
Sending an email when the likelihood of users reading it is high is a common rule of thumb. You don't want to send irrelevant emails to your users' inboxes.
Set up Exit-Intent Popups
Exit-intent popups, rather than more traditional sign-up choices like static forms. And entering popups should be included on your website. Exit-intent popups occur when a user appears to be about to leave your site, giving them the opportunity to reconsider. They're far less intrusive than pop-ups, and you can pair them with an exclusive offer or lead magnet to increase subscriptions even further.
Create Lead Magnets
While there are various techniques to boost subscriptions, lead magnets are frequently regarded as the most effective method for increasing the value of your newsletter. Because most internet users currently receive too many emails, you'll need to provide something special to make a subscription to your D2C brand worthwhile.
Engage: Taking Care of New Subscribers
Provide clear onboarding: When clients create an account or sign up for your email list, these emails are sent right away. This is an excellent time to tell them what they can anticipate from you and your business. It's critical to have a strategy in place to keep new leads engaged with your brand when they sign up for your email subscription. The welcome sequence is undoubtedly the most crucial aspect of a successful email marketing campaign since it sets the tone for the customer relationship.
Tell your brand's story: Introduce your customer to your brand's principles and who you are as a company. By appealing to the love of a good story, you may help your customers relate to you.
Incentivize the next step: Your customers are no exception to the rule that everyone enjoys a good deal. Give customers a compelling reason to buy your product for the first time, and you can sweeten the deal by offering a discount on their first purchase. Here's an example of an email from lightning solutions D2Cbusiness, Lights, and Living.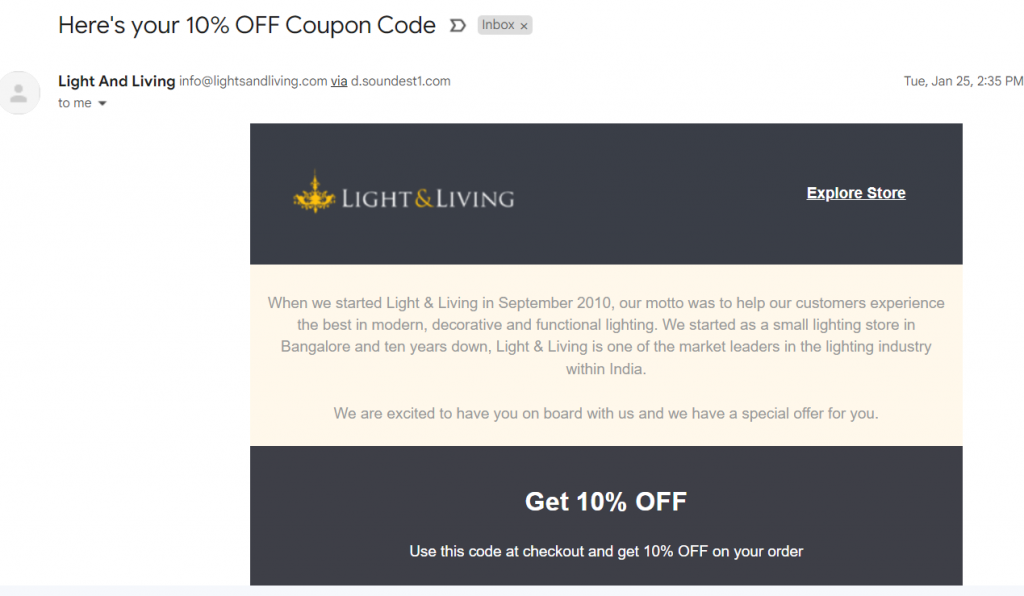 Use Eye-Catching Visuals: We process visual information considerably more quickly than text. With beautiful product images, you can send a strong message to your customers and make them crave your products.
Send a series of three emails for them to warm up to your brand: One welcome email could be enough to entice your first customer to make a purchase. What happens if it isn't? For welcome emails, a three-part series usually works best.
Whether or not a new subscriber opens or clicks on the initial email, you should follow up with them and include them in future efforts. They may need to hear from you several times before they warm up to your brand image and decide to make a purchase.
Convert: Boosting First-Time Purchases
Drip campaigns for common behaviors: Aside from the standard automated emails, now is a great opportunity to start including more intricate procedures into your strategy. Drip campaigns respond to frequent behaviors and deliver personalized messages based on each reader's individual history with your D2C business.
Exclusive discount on viewed items for the more personal element: Users that come to your site and look at a few things, for example, are targeted by browser abandonment workflows. Our email marketing guide says to extend the relationship by providing an exclusive discount on the items they browsed, giving your email marketing a more personal touch.
Cart abandonment sequences, on the other hand, are designed to entice consumers to return to your business after they've added a product to their cart. Abandoned carts should be one of your top goals because a huge section of D2C brands experiences abandoned carts before the final buy.
Retargeting: Getting Customers to Buy From You Again
Any marketing strategy must lead the consumers to their initial purchase, but selling to existing customers is more cost-effective. These buyers have shown an interest in your items and are more likely to convert in the future.
With that in mind, it's critical to think about your core audience of loyal consumers as well as new website visitors and email subscribers. For retargeting regulars and optimizing their lifetime value to your brand, you can employ a variety of automation workflows in email marketing.
Build Trust with Order Confirmation and Shipping Notifications: To begin, create order and shipment notification messages that will be sent automatically after each purchase. When customers buy something online, they expect to receive these reminders in order to examine delivery information and keep track of their purchases. Allow clients to pick their desired channel once again. This leaves little room for questions or doubts.
Use a Referral Program to Incentivize Sharing: Likewise, by continuously asking for consumer feedback on the shopping experience and the quality of your items, you may use your most loyal customers as a platform for word-of-mouth marketing. This request can be included in the order or delivery confirmation, and if eCommerce brands in India offer a discount or other reward in exchange for their time, you'll get more feedback.
Post-Purchase Upsell: Upselling is the practice of convincing clients to purchase more expensive goods. It could be an upgrade to a newer version of a product or service, or it could be the addition of new features or warranties to an existing product. The same concept applies to email marketing. Post-Purchase Upsell emails are sent after a purchase has been made. Customers can be sent product recommendations after they've made a purchase.
Clear Inactive Subscribers from your list: Of course, some returning customers become inactive over time, and it's vital to delete them from your email list to keep it in good shape. Readers who haven't opened or replied to an email in over a year are probably not worth maintaining on your list. This gives you a better analysis and helps you shape better strategies for your D2C brand.
Canceled Subscription Winback
Salvage your brand image
Your targeted email campaign will most likely consist of a series of emails with material compelling enough to entice the ones who escaped to return. Any of the following can be included in a win-back campaign:
A warm greeting to remind the customer of your services and special offers.
An incentive to renew your subscription.
A final opportunity, perhaps with a higher promotional offer than your initial incentive.
Similarly, if you have an exclusive product coming out in a future shipment, you can use the allure of that product to entice other subscribers back.
Collect data for feedback
Due to poor customer service, many D2C brands have high client churn rates. In fact, due to poor customer service, 59% of customers shift to a competitor brand.
The least you can do is Inquire about the customer experience (it's helpful to know why they haven't utilized your service in a while).
Here are three ways you can interact with your customers:
Request feedback from customers or conduct a Net Promoter Score (NPS) survey.
2. Customer expectations should be set and measured.
3. Surveys can add value to your business.
Reactivation attempt only at the appropriate time
Much like the famous fable of "Hare and Tortoise", the slow and steady wins this race too. Studies show that the read (or open) rate for these win-back campaigns was 12%, which is a decent percentage given how few subscribers interact with emails from eCommerce brands in India.
Onwards and upwards
Email is one of the most reliable and cost-effective marketing tools, but it's critical to utilize it in a way that fits the customer experience. D2C brands can rely on this crisp email marketing guide to promote their business.
Keep in mind that personalization isn't a one-time modification; you'll need to keep learning about your audience and adjusting your strategy in response to both outcomes and consumer feedback.