This blog post right here 👇🏽 ranks for 18 keywords on the first page of Google Search engine.
In the last three months, it has generated 842 clicks alone with 8.82k impressions with an average CTR of 9.6%! Overall, it's in the top 100 search results for 158 keywords!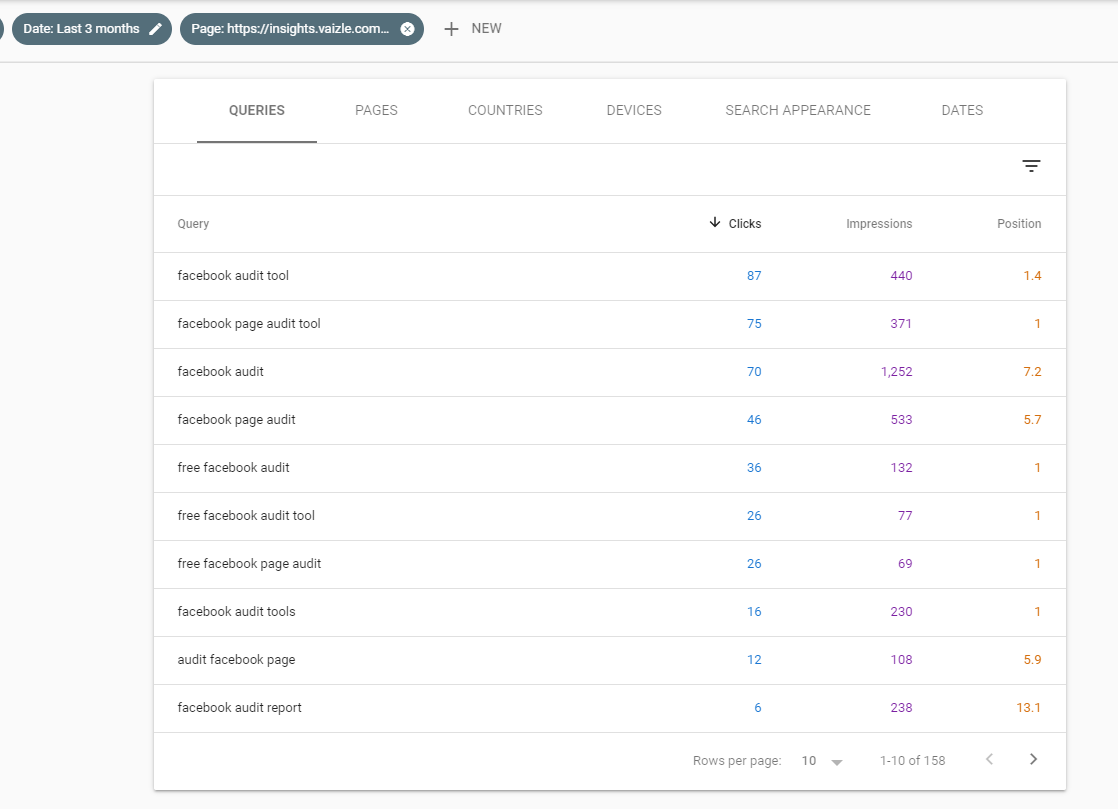 How many backlinks did we generate?
Zero.
How many times did we tried to promote it via paid channels?
Zero.
It's actually simple.
So simple that we have perfected it in the last two years and helped our client rank for 1,391 keywords on the first page. Cumulatively, generating over 100,000 organic website visitors and saving $50,000 for website traffic.
In this blog post, I am going to reveal how exactly we were able to do that. I will also share some more tactics that allowed us to keep it stay there for two years now and keep ranking for more and more related keywords.
It's divided into four parts:
Finding keyword opportunities

Competitive research with user-intent analysis

Writing killer content piece for the selected keyword

Updating blog post to rank for more and more keywords
I will take you through each step and show you how it works. We will also be going through some tools that help us to do that.
Step 1: Finding keyword opportunities
First of all, this is not another boring, generic keyword research that SEO marketers or on-page SEO strategy professionals suggest.
This one is about finding keywords that:
Have potential for high traffic. Specifically, high monthly searches

Doesn't show great content in search results
Although a lot of people recommend to look at the keyword difficulty, this may not be relevant at all. Because we have ranked for keywords with 80% ranking difficulty without generating a single backlink. More on that in the Step 2.
So how do you find keywords that have high monthly searches and doesn't show great content in search results?
The blog post I showed above, I used Google Keyword Planner.
It's strange how SEO people refute Google Keyword Planner. Although it's designed for planning your PPC campaign, it's a great tool to discover keywords that have high monthly searches. I trust Google not only because it has worked for us again and again but also because it still commands 91.89% of the search engine market share worldwide.
Using Google Keyword Planner, you can either use "Discover new keywords" or "Get search volume and forecasts".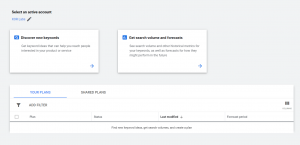 The first tool allows you to get keyword ideas by typing a topic or entering the link of your website. The second tool lets you enter all the keywords or upload CSV file and it then shows you monthly searches for all the keywords.
Below is a screenshot of keyword ideas for this website sorted by Avg. monthly searches.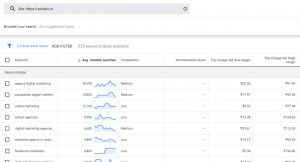 Once you see the keyword ideas, you can download these and mark the ones that makes the most sense for your business or which you feel your target audience might be searching for.
Here are other keyword research tools you can use for finding keyword opportunities:
Step 2: Competitive research with user-intent analysis
This is not another competitive research on how you rank against your competitors.
No, no, no, no, no. No!
This is where we try to find the user search intent for each ranking blog post for the search query. And trying to answer, competitively, are those blog posts actually targeting user-intent for which we are planning to write?
Let me give you one example.
Try searching for Facebook free tool. What does Google show for it? To me, it showed this result. 👇🏽
Notice how Google only shows list-based blog posts. If someone searched for Facebook free tool, there are good chances the user is probably searching for an actual FREE TOOL and not a listicle. 🙄
It's this understanding which helped us rank for the search query "free facebook analytics tool" 😎 (Go ahead. Search it and see if you find a link from Vaizle.com)
Now you know this, here's what you need to do next.
Find what's happening on the search engine when you search for those keywords.
You can do it either manually or, again, use tools.
As an agency, we use SEMRush for this step.
Now, don't think of this step as a classic competitive analysis. Because on search engine you are not just competing against your competitors, you might also be competing against brands or websites which are creating content for the same or similar topics.
For instance, check this screenshot below.
When I searched for the keyword "marketing strategy template", the results were from companies from totally different industries. Forbes is a media company. Piktochart is a design tool. Product Plan is a product planning tool and finally, Add This is a growth tool.
The point is on search engine, you're competing against everyone who's trying to create content in your industry even when it's not a competitor.
So, what does it mean for your competitive analysis?
It means you need to check what content comes on the search engine for the high potential keywords you shortlisted in the first step.
SEM Rush will show you all the content that ranks for any keyword that you choose. It also shows referring domains, backlinks, search traffic, and the number of keywords for which that particular URL is ranking.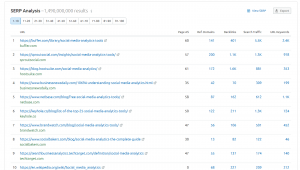 Your job as an on-page SEO strategist is to see for which keywords there's NO amazing content. Or keywords for which you feel you can create better content.
Once you're confident you can create a better content for a keyword, choose those keywords in your content marketing campaigns.
Step 3: Writing killer content piece for the selected keyword
This step is harder than it looks.
What constitutes a killer piece of content?
Is it 5,000 words blog post? Does it need to have a video? Or an eBook? Or a video or a podcast transcription? There's on template here. It can absolutely be anything.
Sometimes, even 1,000 words blog post can do wonders.
Only thing you need to focus on is making the content valuable.
Whoever comes on the content piece you're creating must find it valuable: sticky, readable, and if possible, shareable.
We generally follow following methodology that has worked for us again and again:
At least 1,500 words blog post

Make the content easy to read

Make it scannable with headings, subheadings, & bullet points

Spruce it up with images

Have internal and external links wherever required

Optimize the blog post heavily for the focus keyword
Again, the catch is, the content has to be highly valuable for your readers.
Once the blog post is ready and published, use Google Search Console to send instruction to the Google Search engine to index your new content page.
The Bonus Step: Updating blog post to rank for more and more keywords
If you've done everything right, there are decent chances you will start ranking soon and all you have to do is keep tracking the week-over-week progress and keep optimizing the blog post.
Sometimes, it just takes one week for a blog post to rank on the first page. For instance, check this blog post we planned and delivered for one of our clients which started ranking within one weekagain without zero backlinks!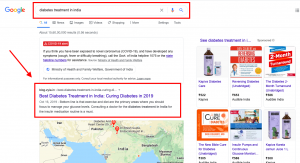 So, is the job done when your blog has started showing in on the first page?
Well, far from over…because there are still opportunities to milk more traffic from this already ranking blog post.
Remember the blog post I showed you above that was tanking for 18 keywords on the first page?
Well, initially, it was ranking only for:
facebook audit tool

facebook audit
So, how did we increase the number of keywords it has started to rank for?
Here's the secret.
Choose any keyword suggestion tool like SEMRush or Ubersuggest.
Enter the keyword for which your webpage is ranking. The tool will show you all the keywords related to the search term you entered.
Now add these keywords in your web page wherever it's relevant. Don't just try to stuff them in. You need to make sure they make sense in the blog post or the web page you're adding them in.
Once you do this exercise, add these new keywords in your position tracker tool and see how the ranking for them is changing week-over-week.
Conclusion
There you go!
A 4-step on-page SEO strategy that can do wonders for your organic growth.
Even if it doesn't help you to get to the first page just with on-page strategy, you can club it with off page and link building program to outperform your competitors quickly.
Have you tried something like this or are finding it challenging? Start by doing a quick web page audit below.