Innovation and resilience are the two words that have guided the Indian DTC market. You see, many DTC brands cropping up around you and are touching new horizons.
How DTC brands are winning the marketing game
However, what separates a successful DTC business from a struggling one is that the DTC marketers use a tactful approach to:
increasing reach
addressing customer pain points
making it easier to access their product
Unless your product is groundbreaking, carving your niche in the already saturated market is a new game altogether now. You cannot just launch your product and hope it sells through traditional ways.
Comparison between traditional retail and direct to consumer marketing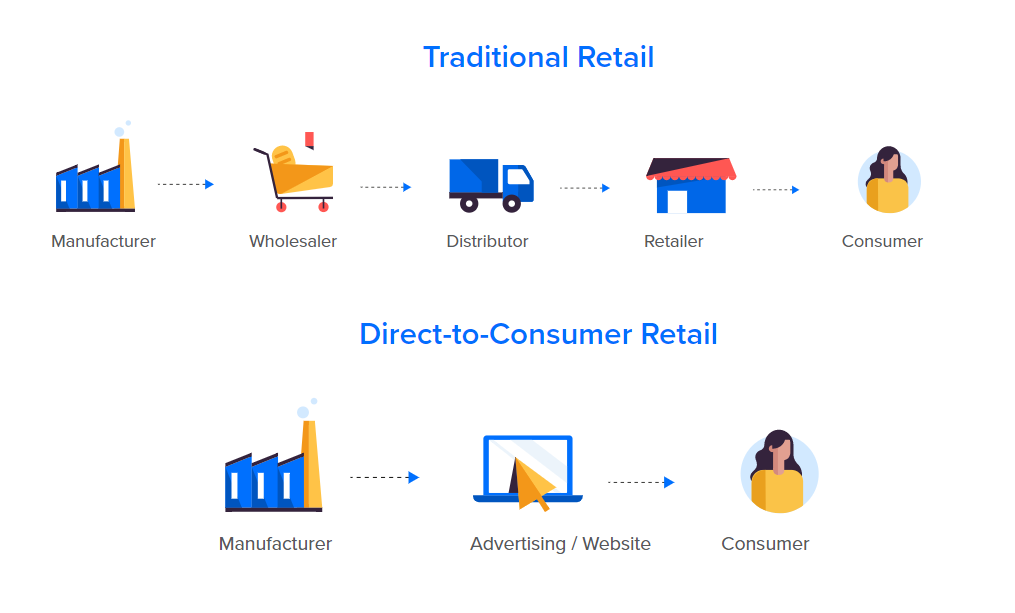 DTC brands focus on understanding what customers want and anticipate their requirements at every stage of the process. This new generation of entrepreneurs has turned this method of marketing and selling into its own business model. Everything from research through purchase and returns and everything before, after, and in between is included.
DTC marketing tactic examples: Discover how DTC Brands are transforming retail
Let's go through some relatively young DTC brands–that has challenged the legacy of multinationals.
1. Mama Earth
Gazal and Varun Alagh launched MamaEarth in December 2016. It manufactures a range of natural and non-toxic skincare products. They promoted themselves as the only company in India manufacturing toxin-free products with no artificial fragrances and colorants.
You can well imagine its popularity. It reached Rs. 100 Cr revenue mark in mere 4 years of its launch. It is a DTC brand dealing in skin and hair care, baby care, and pregnancy care products.
It's a competitor in many categories.
In the beauty product category, it's challenging Revlon and Lakmé. In the skin care category, Mama Earth is standing against Himalaya and Hindustan Unilever. And for signature baby care products, they are no less than Johnson & Johnson.
TakeAway: Sell a lifestyle by exploring unique spots in the market
Mama Earth did not just sell skin care products, it sold a toxin-free lifestyle. It promoted a natural way of living. They also captured the customer's attention with the initiative of planting trees amidst the looming danger of climatic changes.
It's just as vital to explain your brand's objective to your customers as it is to communicate the value you intend to provide them. And do so in an engaging way.
Using several media, MamaEarth's more intimate approach to content marketing allowed the squad to create a large following of passionate fans. There are few DTC brands as aggressive as MamaEarth on influencer marketing.
Look beyond the actual use of your product, no matter what it is. This will help you see how your brand genuinely fits into your customers' life. Once you've determined your brand's genuine position in your clients' lives, you can focus on completely filling the niche.
2. Wakefit
Mattresses have always had more brick-and-mortar stores dominating the market. But Wakefit has revolutionized this industry. On top of that it introduced:
100 nights trial
No-questions-asked returns
10-years warranty (the maximum in the industry), and
Direct doorstep delivery throughout India (even though it meant huge freight charges for the company)
To address this, the company established regional warehouses to cut order delays and shipping expenses. It used AI-powered inventory forecasting to forecast inventory and purchase data across warehouses. This aided in the management of high-volume sales as well as the reduction of shipping and order fulfillment costs.
Did that actually work for the direct-to-consumer mattress and pillow brand Wakefit? It worked like magic.
The revenue generated in FY20 was 150% higher than the previous fiscal year–total sales hitting INR 187.2 crore.
Takeaway: Make things simple for your customers
Because the DTC business model is based on simplifying procedures, it's only natural that you'd want to extend that simplicity to your consumers.
In the grand scheme of things, the idea here is to streamline any and all processes that your clients go through on their way to making a purchase. As a direct-to-consumer company, you don't rent out your purchasing experience to a retailer; you own it. A high-performing product coupled with the best marketing strategies and strong business sense is a sure-shot recipe for success.
3. Bonobos
The clothing industry is sort of set in its own ways. It has been rare that any new brand gets to make its mark on a large scale. And that too is the men category.
Well, Bonobos has actually done it. They have taken the term "connect with your customers" to another level.
In India, the apparel industry is driven not just by consumer demand, but also by individual preferences and costs.
Global brands like Gap, Aeropostale, and Polo Ralph Lauren merely strive to appeal to individual interests and tastes. Unlike them, Bonobos decided to use customer service and support to establish its unique selling point.
This new DTC brand's "ninjas" (customer service reps) and "guides" (a.k.a sales reps) are in charge of these projects. Bonobos give their sales staff the ability to provide individualized care to their individual clients on a level they aren't used to. The Bonobos team assures that every time a consumer visits, they will discover exactly what they are looking for.
Takeaway: Focus on customer service to set your brand out from the competition.
Your consumers will constantly be telling you something that could help you better your business moving forward, whether it's about their favorite fashions, their in-store or on-site expectations, or any likely troubles they may have had with your brand.
Given that your entire business strategy is based on maintaining a line of communication between your DTC brand and your consumers, it's only natural that you'd want your service and support efforts to be deemed exceptional.
If you can demonstrate to your consumer that you're willing to not just listen to them, but also act on their suggestions, you'll have a customer for life.
4. boAt
boAt has become a common household name in India.
They perfectly timed their launch with the boom in the electronics accessories industry. As and when mobile devices expanded in their reach and features, boAt was there to make available quality accessories at reasonable prices.
To grab the attention of the digital-first generation, boAt, a prominent DTC brand in this category, has produced sophisticated but inexpensive goods based on user input and in partnership with designers.
In mere two years, earwear startup boAt became the fastest to hit the INR 100 Cr revenue mark.
It is one of the few significant Mumbai-based DTC firms with a substantial number of investment deals, with $115.9 million raised between 2014 and April 2021.
It only took boAt 4 years to become the number one earwear brand. It's probably one of the largest valued consumer electronics DTC brands built in India. Its revenue in FY20 improved to INR 704 Cr under its belt.
Takeaway: Study the market and select your demographic
As mobile devices morphed into smartphones, boAt was there to fill the rising need with its mobile device accessories. The world was just switching around to portable music systems. All other brands available at that time were high end and users had to shell out a lot of money too.
They have unique and fashionable, trendy designs too, that appeal to the masses.
So what we can take away from here is that go simple to go big. bOAT is one of the few DTC brands to go use Indian cricket and IPL for promotion.
Conclusion
One lesson that runs through all of these introductions is that running a DTC brand needs innovation.
Because DTC brands own the whole customer experience, they may customize every component as they see fit. As a result, they can employ a number of DTC strategies to engage with. From a simple tweak in offering to reach out to customers on the scale, the innovation has no limits.
The most essential lesson to take away from all of this: if you're going the DTC road, innovation is your friend.