There are tons of marketing strategies you can pursue for your eCommerce store.
Content marketing. Social media marketing. Influencer campaigns. Performance marketing (Read: Facebook Ads and Google Ads). Emails. SMS. But which ones should you pursue? And when? Because you'd like to do everything but you cannot pursue all of them because your time and your money are limited. Always.
In this blog post, we discuss some eCommerce marketing strategies you should always test (if not outrightly pursue) for your eCommerce store.
1. Performance Marketing
That basically means Facebook Ads and Google Ads.
There's no successful eCommerce store out there which is not spending on Facebook Ads or Google Ads.
Both the platforms are crucial in your ecommerce marketing strategy. Plus, it's not like one is better than the other. Your ratio of your ad spend on both the platforms may vary based on your audience, but they always need to be in the picture.
Successful eCommerce stores also use Facebook (and Instagram) and Google (especially YouTube) platforms for branding. However, keep in mind that the Facebook algorithm favors content that inspires meaningful conversations and interactions between individuals, particularly between family and friends.
As your brand grows, you can add more channels to the marketing mix. For instance, Snapchat and Tiktok are also being adapted by marketers for eCommerce marketing campaigns.
Here's a Facebook Ads funnel you can start with.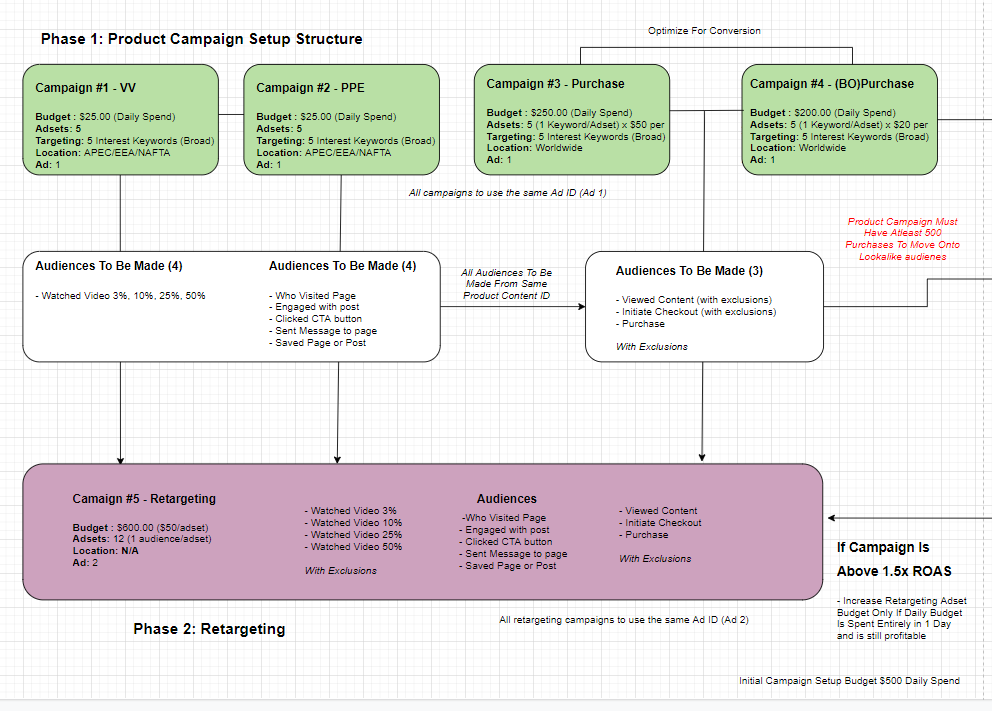 Although the numbers are defined for a client with a larger ad budget, you can still apply its fundamentals with your own ad budget.
2. Influence using Influencers
There's a popular notion: influencer marketing is costly. But it need not be–if you're making the right connections, planning long-term, and creating community around your product. You'll want to reach out to influencers who your target audience follows if you adopt this marketing strategy.
Even if they only have 12,000 followers instead of 12 million, micro and nano influencers can be just as successful. That's great news for you, because who wants to work with Yo Yo Honey Singh all the time?
Users are more likely to trust micro-influencers because they believe their recommendations are more trustworthy. Some may demand payment, while others may only want a set of free goods.
On a side note, as an agency, we've consistently seen that the results of other marketing efforts–performance, content, and SEO–improves a lot with influencers push. In fact, there are categories (beauty, skincare, health, fitness, etc) which cannot work without adding influencers to its marketing mix.
3. Email marketing
I cannot stress enough that: email marketing is indispensable for your ecommerce store's marketing strategy! And it should not be limited to the automation part. You can do so much more with emails:
Build lasting connection
Educate your customers
Drive repeat purchases
Share updates about new inventory
Send updates about new products
I have seen many startups in the scaling phase not planning an email marketing campaign. And because of that, they are losing an easy revenue channel: repeat purchases.
Here are some of the objections I have heard from people and why they don't use email marketing:
"Oh! Our product is not suited for repeat purchases."
"I don't think it will work."
"The effort to return the ration doesn't sound exciting."
Let me tell you a fact about marketing: you cannot say anything certainly without having tested it.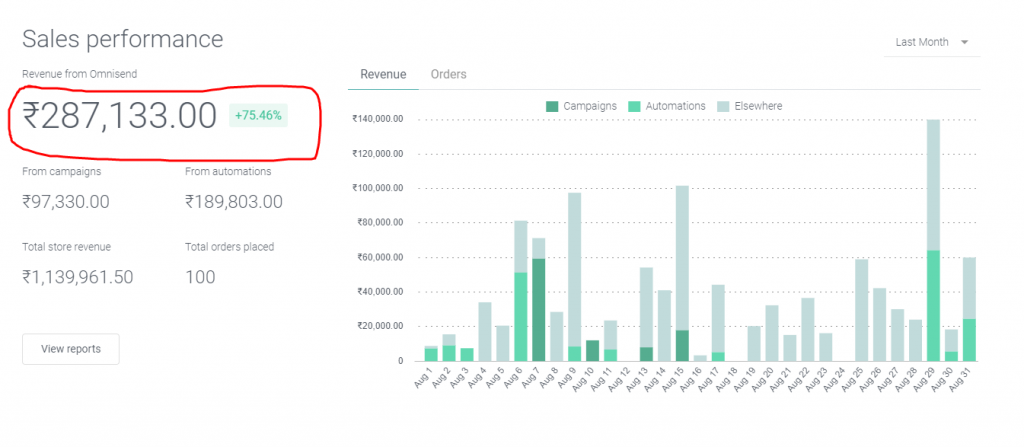 Here's how it turned out for one of our clients once we started focusing on it.
To determine how well your email marketing initiatives are functioning, you only need to monitor and analyze each campaign's performance consistently. This information can assist you in determining how to improve the effectiveness of your email marketing communications hence a more streamlined eCommerce marketing strategy.
4. Retargeting (also called remarketing)
A customer makes multiple touch points on your store before making a purchase. And to generate those consistent touch points, you need to plan a retargeting strategy.
What is retargeting?

The process of sending tailored adverts or messages to specific people who have already interacted with your business is known as retargeting. This might include individuals who have recently visited specific pages on your website or have previously purchased from you.
There are three major ways in which you can retarget a customer.
Performance marketing platforms: Facebook Ads, Google Ads (specifically YouTube and Display)
Email marketing automation
SMS marketing
Using each of these methods, you get to your customer with more contextual offers.
Pro Tip: The bigger your top of the funnel is, the better your retargeting campaigns will perform.
A major part of using retargeting as an eCommerce marketing strategy is to make your adverts as specific as possible to properly manage a retargeting campaign. Was the buyer seeking something specific? Make sure the adverts that are shown to them are for that specific product and link to the product's page.
Here's a comparison of performance of Return on Ad Spend (ROAS) between a cold campaign vs retargeting campaign.

5. Content Marketing
Many marketers believe that the best RoI comes from educating your customer. That's where content marketing comes in.
Here's a great example from a DTC brand which sells mattresses online.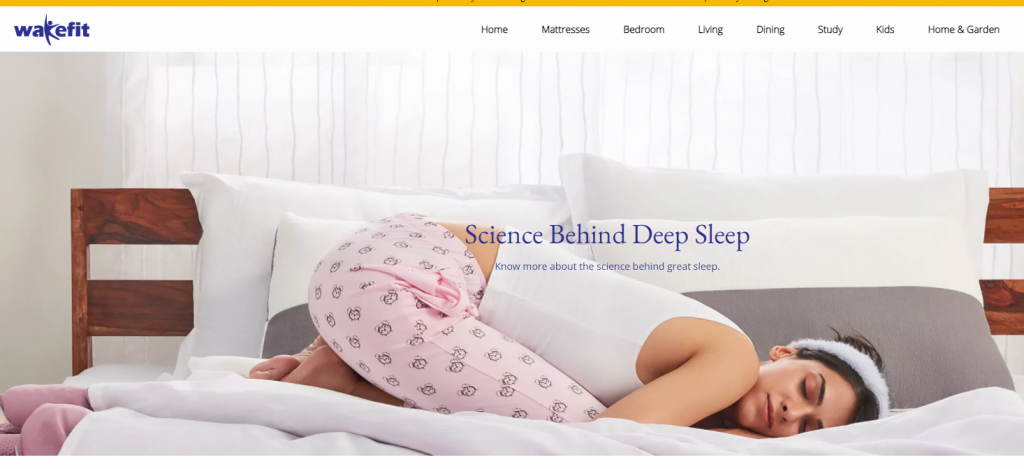 They are not just selling mattresses. They are talking about the Science Behind Deep Sleep. If you're struggling with your sleep, chances are you will read that. And chances are, you will remember it. And if you remember it, you will consider buying a mattress…probably from them.
Most people think of content marketing as blogging. But the content format can be anything.
Remember that your blog isn't supposed to be about your latest products. The idea is you should be initiating that communication with your audience. If you're an eCommerce store looking to advertise a new line of fitness apparel, write a blog post about the various features that people should seek in clothing when doing various types of workouts.
Conclusion
First of all, you cannot pursue all marketing mediums at the same time. You need to expand your marketing channels as your business grows. At the same time, there are other strategies that you can pursue. This is NOT an exhaustive list.
You can go for SEO. You can focus on growing your social channel. Hire a conversion optimization agency or expert. You can, in fact, even go offline.
Any successful eCommerce website must stay current with the latest marketing trends and tactics. It's critical to produce information and products that are relevant, interesting, and beneficial to your target market.
Always keep an eye on your website analytics to see patterns, keep your site optimized, and track your progress!