How do you calculate SEO RoI? It's difficult for advertising, especially after iOS14 updates and as we move into the cookie-less world. But for SEO, calculating RoI is trickier.
More so because some SEO activities' direct impact cannot be quantified. For instance, how do measure the impact of back linking. You don't know how much did it specifically contribute towards organic web visitors.
For instance, take this web page: https://vaizle.com/free-facebook-tools
It ranks for several keywords on the first page of search engine.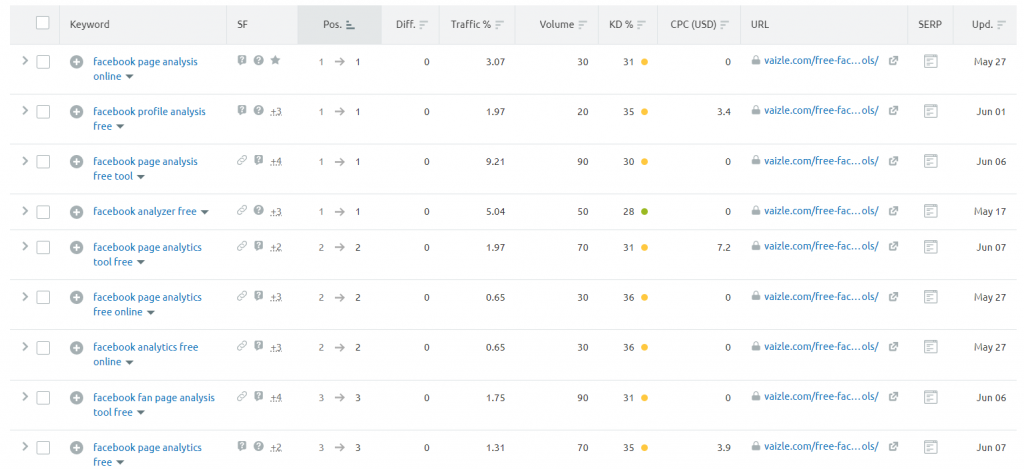 It has 23 backlinks with 7 referring domains.
How would you tell whether the ranking is because of backlinks or because of the content quality? There are several explanations but not one that can be pointed at with certainty.
Measuring RoI of SEO becomes easier when you look at the complete picture. Take all the SEO activities together and it becomes easier to calculate RoI of your SEO activities.
We use two approaches to do that:
Revenue method: By looking at the revenue directly coming from organic traffic
Traffic method: By looking at the organic traffic and how much it would take you to bring the same traffic from paid sources from the same keywords
Now, that the starters have been served, I am going to discuss each method in detail.
The Method #1: Calculating SEO RoI using the Revenue Method
It's plain and simple.
Check the change in revenue from the organic traffic after launching an SEO campaign. If you're using your website for lead generation, you can use this method to calculate the change in the number of leads per month from organic traffic before and after launching an SEO campaign.
Go in Google Analytics and check how the revenue from the organic traffic has changed after launching an SEO activity.
Before launching the SEO campaign, check what was the monthly or weekly revenue the website was generating from the organic traffic.
Then check how it has changed after, let's say, 3 months. Or you can measure the last three months' performance against the previous three months performance.
Here is an example.
For this fashion eCommerce client, the revenue from the organic traffic increased by 51.87% within three months after launching SEO activities.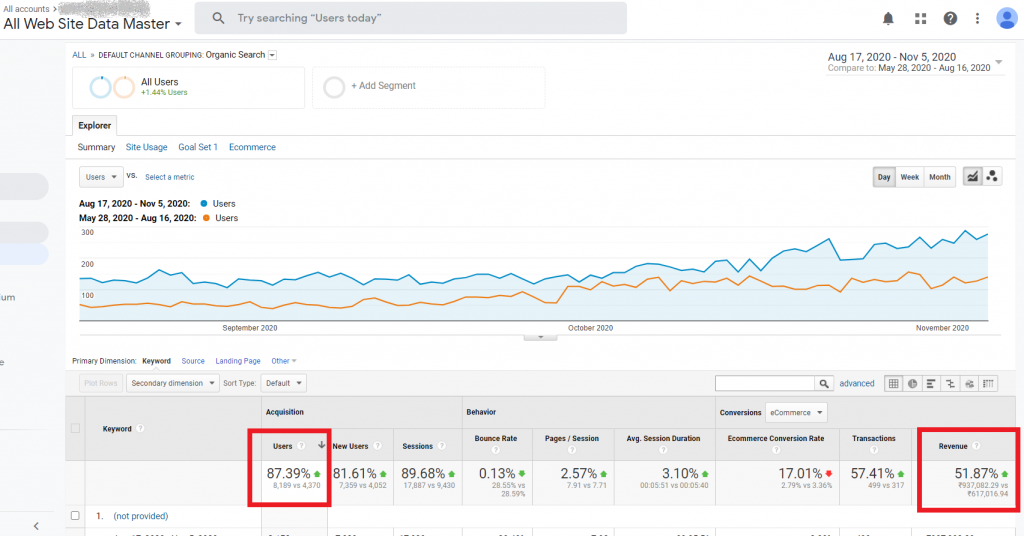 The method #2: Search Ranking-driven RoI
This process sounds complex but is the simplest way to look at SEO RoI.
I prefer this method more because in many businesses you're not generating any revenue from the website like if you are a content platform. Or in the initial days of investing in SEO when the results haven't scaled yet. Since SEO requires tons of testing as well, this method is more suited because it's based on measuring ranking improvements and that's something which will give you right pointers.
The premise of using this approach is simple:
What would it cost you to bring the traffic via search ads that is now coming organically on your website.
You can use this method in two ways
Using SEO Tools
Using Google Search Console and Keyword Planner together
Using SEO Tools
We use SEMRush to calculate it automatically. There are other SEO tools as well which can help you calculate the RoI of the organic traffic on your website.
Here's an example

This is a screenshot from SEMRush which tells that Vaizle.com is approximately generating $686 worth of traffic on the website from US.
SEMRush defines Traffic Cost as the estimated average monthly cost to rank for organic keywords in Google Ads
All you have to do is enter your domain name and the algorithms of these tools will do everything for you.
Using Google Search Console and Keyword Planner together
You can even go deeper in this analysis by adding Search Console data to the analysis.
Here's a step-by-step method that you can follow.
Step 1: Check and download all the keywords that has received click in a month from Google Search Console
Step 2: Create this list in a well-formatted manner in an Excel sheet
Step 3: Add all these keywords in either Google Keywords Planner or SEM Rush and check the average Cost Per Click for all the keywords together
Step 4: You can then multiply the average Cost Per Click with the total number of clicks in the month to calculate the cost saved for getting traffic from each keyword
This process gives you a fair estimate of the cost you are saving from the organic traffic.
In both the methods, if you do a before-after analysis, you have what you were looking for: all the money you saved from your SEO strategy.
Limitations and Improvements
I still feel the second analysis is much better, clear, and accurate.
Of course, it doesn't directly relate either with the revenue or the number of leads. But it's a better method because you're calculating the actual impact. The revenue and leads from organic traffic depend on conversion rate which in-turn is a measure of a website's performance and ability to convert.
Talking about the first method, it's full of limitations.
The first arises out of attribution. There are multiple attribution models that you can use for checking revenue generated out of organic traffic. For instance, Google Analytics 4 offers six attribution models:
First-click
Last-click
Data-driven
Linear
Position-based
Time decay
None of them is perfect. You can choose any one that is more suited for your business.
However, this means the RoI that you calculate using any model will be different from the others.
One way to overcome this limitation is by checking Assisted Conversions analysis in GA4. You can see all the conversion and conversion value where organic traffic contributed.
For instance, Organic Search channel contributed to ?20,40,600.50 in sales for this eCommerce store.

Conclusion
As many things in marketing, this analysis is NOT complete. It can be improved. For instance, there is a cost involved of SEO tools, people, and agency (if you've hired one). Once you take all those costs into account, that's when your SEO RoI figures will become more accurate.
As I started by addressing, calculating SEO RoI is complex.
What methods do you use to calculate the RoI of SEO.
If you have any questions or queries about our methods, feel free to ask me or suggest changes.