Are you trying to find the best Keyword Research Tools for SEO?
For your brand to receive more visitors, keyword research is essential. It assists you in creating the ideal content to boost visitors from organic searches.
Finding the keyword research tool online for free might be difficult, especially if you're just getting started with SEO (Search Engine Optimization). You can start with free tools in the beginning, but paid tools are much more efficient in the long run.
We'll not only discuss the top keyword research tools in this article that professionals utilize to increase website traffic but also the concept of keyword difficulty and all the keyword types.
Let's take a look at what is ahead:
What is Keyword Difficulty?

Long-Tail Keywords Typically Have Lower Competition
Site Authority on the First Page of Google
Keyword Difficulty in Keyword Research Tools
Types of keywords

Informational Keywords
Navigational Keywords
Commercial Keywords
Transactional keywords
Keyword Research Tools
There are various free as well as paid keyword research tools. Let's discuss some of the trusted tools that we have used:
Semrush is the favorite keyword research tool among SEO Analysts. It is the most trustworthy tool that keeps on updating based on any Google algorithm changes.
In the Semrush tool, you can start with the "Keyword Overview". Start by entering a seed keyword to get the details.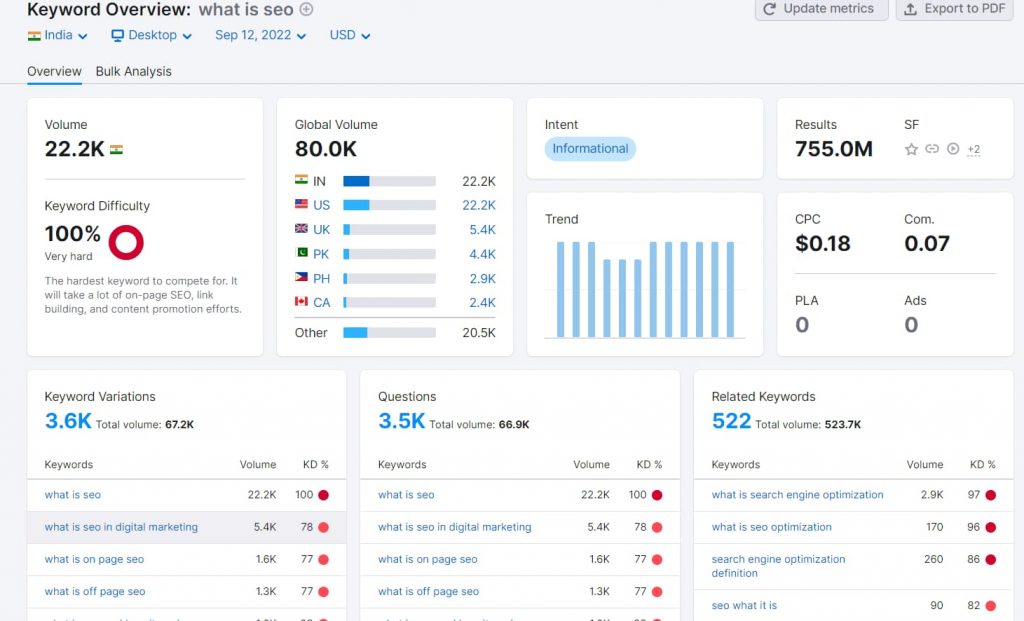 By just typing in a keyword, you get a full picture of everything you need to know. This includes monthly search volume (how many people search for the keyword), Keyword Difficulty (competition for that keyword), Trend (whether it's growing in popularity or becoming less popular), Keyword Variation to extend the reach of a particular keyword, CPC, and much more.
It has a fantastic feature of the Keyword Magic Tool that generates more keywords based on your seed keyword along with their usage metrics.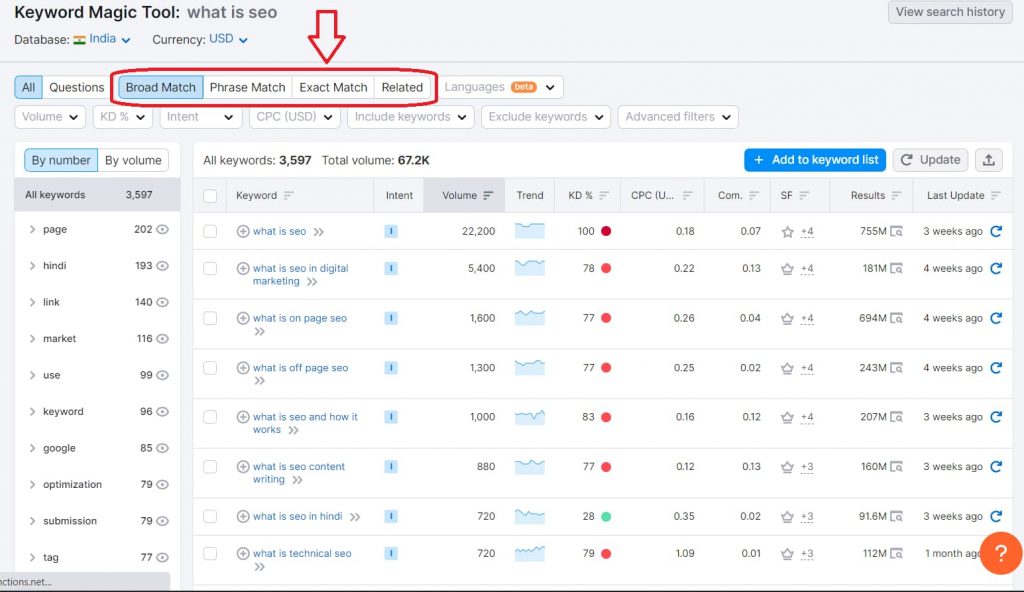 It comes with an advanced filter option or you can choose specific keywords based on intent using the left side menu.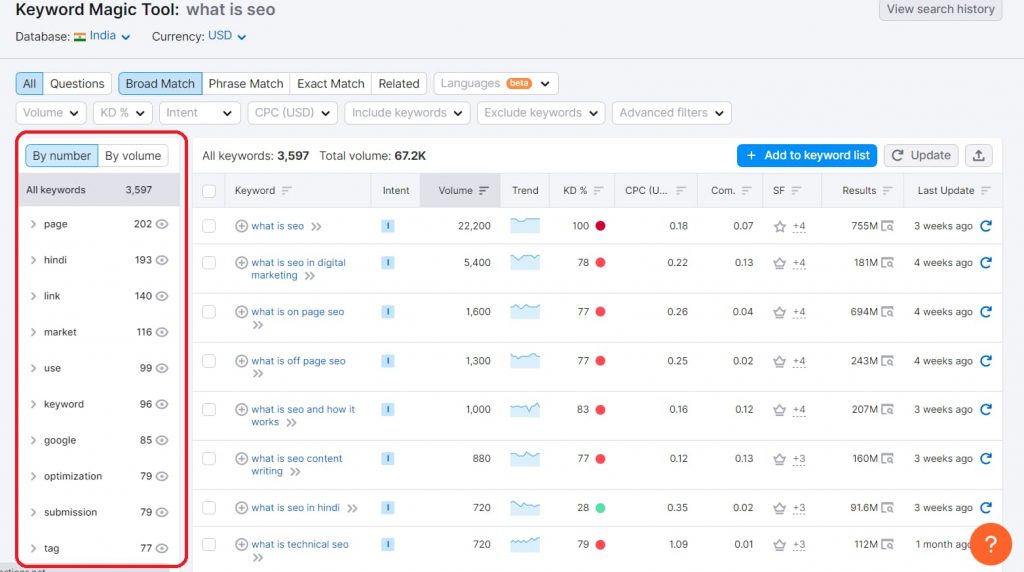 Ahrefs is the most versatile tool for SEO. It is used to research keywords along with auditing websites, backlink analysis, and competitor analysis to see the keywords that your competitors are ranking for (but that you're not), so you can create new content pieces targeting keywords related to those subjects.

It is as simple as typing a keyword into the search box and Ahrefs keyword explorer will present you with a whole list of keyword suggestions.
You can also see new keywords and keyword movements in search queries with Ahrefs' competitive intelligence tool.
Ubersuggest from Neil Patel gives a concise picture of the seed keyword including Search volume, both organic and paid keyword difficulty, CPC, and more.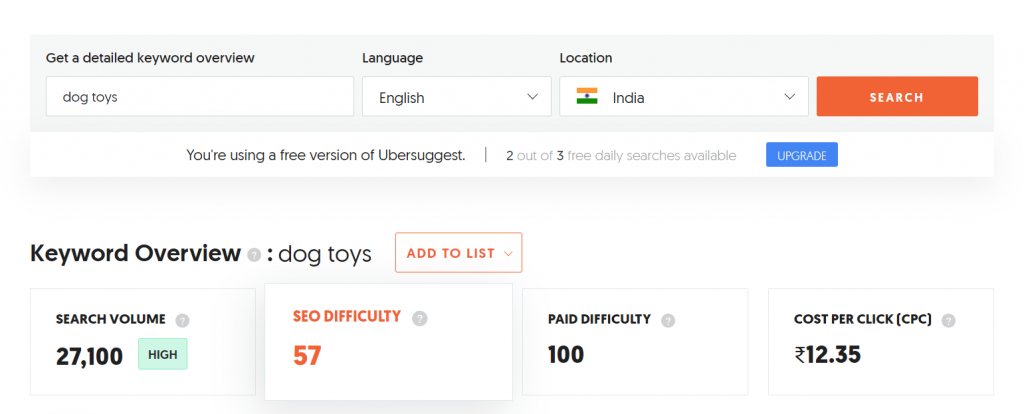 Here too you get related keyword suggestions along with content inspiration based upon your keywords.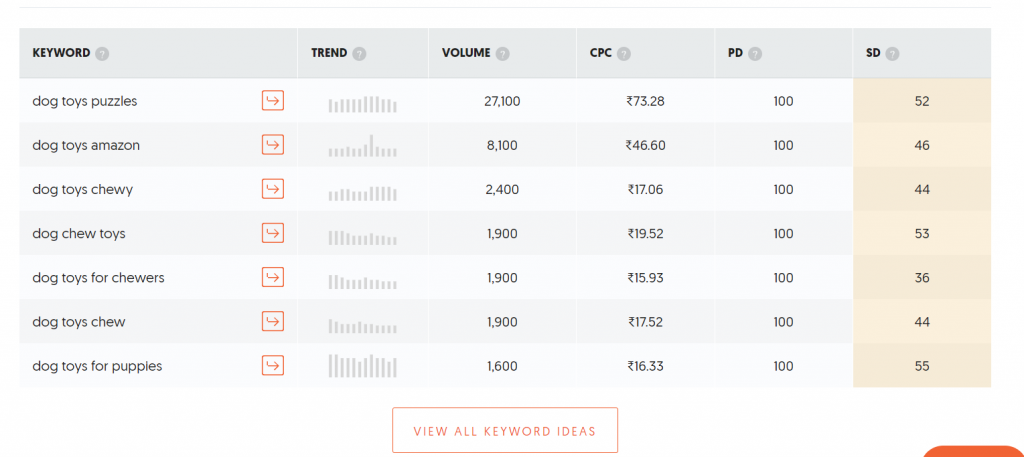 You can also view the top Google results for that keyword, with estimated visits, number of backlinks, a domain score, and a total number of social shares.
You may access more keyword ideas, daily rank tracking, and customized SEO suggestions by logging into Ubersuggest with your Google account. Additionally, UberSuggest has a Chrome add-on that might enhance your productivity.
Google Keyword Planner
The purpose of Google's Keyword Planner is to help advertisers that want to run their ads on Google. Nevertheless, it's still a helpful SEO tool, and unlike other premium tools, this is a keyword research tool online for free.
You'll need a Google Ads account to access it. You don't have to run an active campaign or make any payments; all you need to do is start one if you don't already have one and submit your payment information.
Once you've logged into your Google Ads account and have access to the Keyword Planner, you can type in any keyword to obtain data on its (roughly) monthly search volume. A lengthy list of similar keyword suggestions will also be displayed, which you can scroll through or save.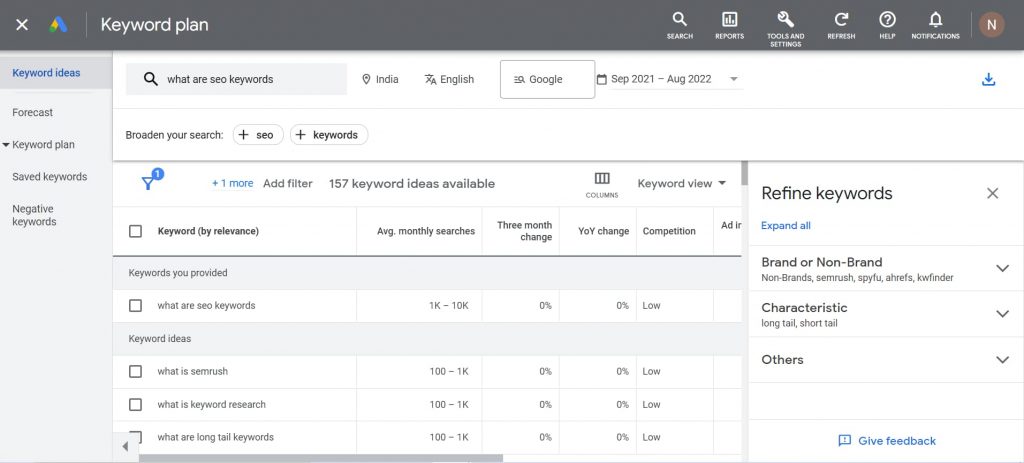 Its best feature is "Top of page bid".
Basically, it tells how much the advertisers are bidding on a keyword.
If you see a $10 top-of-page bid, people are spending 10 dollars per click on average.
There is no doubt that a higher number indicates more commercial intent on the part of the searcher.
Keyword research tools use a lot of terminologies. Most important are the keyword intent Keyword types and Keyword difficulty. We will discuss these in detail below to get a better grasp of the concept of keywords in SEO.
What is Keyword Difficulty?
The method of analyzing the difficulty of ranking for a certain keyword on search engine result pages (SERPs) is known as keyword difficulty The difficulty of a keyword is determined by a variety of variables, including domain authority, page authority, and content quality.
In a nutshell, it's a critical step in the keyword research process. You can choose the ideal keywords for SEO by taking into account keyword difficulty, monthly search volume, and other variables. The only drawback is that keyword difficulty is measured differently by each analyzer.
Here are some ways to navigate around keyword difficulty
Long-Tail Keywords Typically Have Lower Competition
Target long-tail keywords if you want to be certain that a keyword is not competitive.
A keyword can be divided into three categories: long-tail keywords, head terms, and body terms.
These are short, competitive keywords with a high search volume.
Head keywords include "SEO Services" and "PPC Agency," for instance. However, because the intent is unclear, some keywords don't translate effectively.
Body keywords have a decent search volume and are composed of two to three-word phrases. Compared to head keywords, they are more precise. In most circumstances, body keywords are less competitive than head terms.
"Guide to SEO" and "PPC Agency in Chandigarh" are a couple of instances of body keywords.
Long-tail keywords are made up of four or more highly specific word phrases. The majority of online searches include these terms.
These keywords are not particularly competitive, though. "google search engine optimization" and "small business SEO Services near me" are a couple of examples of long-tail keywords.
Although there is no ideal keyword category to concentrate on, long-tail keywords typically have lower competition than other keywords.
Site Authority on the First Page of Google
Here is another method for determining how competitive a keyword is.
Look up your term on Google first, then visit the websites that appear on the first page of results.
Keep in mind that we are looking for sites here rather than specific pages.
You might wish to remove that keyword from your list if you discover Wikipedia in the list of sites.
You can try to rank for it, though, if there isn't a site with uber authority on the first page.
Keyword Difficulty in Keyword Research Tools
This is the simplest method and a no-brainer for determining a keyword's difficulty based on a variety of factors.
Select any keyword research tool of your choosing, like SEMrush. Make use of the keyword difficulty feature in Ahrefs or Ubersuggest.
I've discovered that the majority of these keyword analysis programs base their evaluation of keyword difficulty on a combination of domain and page authority. However, the keyword difficulty scores produced by each tool vary.
Types of keywords
You might need to make a change to differentiate your website from the competition by using an intent-based strategy for your SEO and content initiatives.
You must conduct keyword research for SEO that considers the various term variations in order to develop your approach around purpose.
What subsequently are the various keyword types?
There are four basic categories of keywords to identify intent, according to the majority of SEOs:
Informational Keywords– Searchers looking for broad information or an answer to a specific question use informational keywords.
Navigational Keywords- Searchers use navigational keywords to locate a certain website or page.
Commercial Keywords- are which people conducting product or service research
Transactional keywords- are used by users who want to make a purchase or perform an action.
The Four types of keywords:
All keywords can be classified into four basic types of intent when determining a user's intentions for conducting a search: commercial, transactional, informational, and navigational.
With a brief description of each type, we'll define what these types are.
Informational
Many keywords have high search volumes but don't lead to website conversions. Why?
Simply said, people are looking for information. These searches are referred to as informational keywords.
Informational keyword examples:
1 cup of tea calories
How to bake a cake
Define Keyword Research
This type of term can be identified by "question words," which frequently include hints like "what is," "how," and so on.
They can, however, be useful in increasing brand recognition if you target them with educational content.
By focusing on these terms, you may be able to establish your website as a leader in your industry, one that people turn to when they need advice or have a basic inquiry.
Navigational
Navigational keywords are another category to be aware of.
An individual conducts a navigational search when they enter a company or brand name into a search engine.
Navigational keyword examples:
Facebook
XOR Labs website
These searches are being performed by people who are already familiar with the business or product and are looking for the right website or physical location to access it.
When the brand or the website is well-known and well-liked, such keywords might be beneficial sources of organic traffic.
Commercial
Commercial search intent inquiries, may or may not immediately lead to sales. Users go for commercial keywords when they are undecided about which good or service to select. The majority of these inquiries return information that aids users in choosing a product. Best examples of a keyword with commercial intent are:
iPhone 13 review
Top-load vs front load washing machine
Which is better? PPC or SEO
Depending on the particular keyword, you can use comparative pieces, listicles, reviews, or how-to articles to target these terms.
These keywords can be useful possibilities to reach an audience that may be converted into future consumers because they indicate a person's intention to buy or engage in some type of commercial activity in the future.
Transactional
Transactional keywords are those with the strongest desire to make a purchase or take immediate action.
Paid advertisements and highly optimized purchase pages or other pages where consumers may take immediate action on a website can target these keywords.
Some examples of transactional search queries are:
Guest post services
Second-hand car for sale
Email subscription for news
Users may not always make purchases through transactional queries, but rather indicate they are ready for conversion.
Because a person at the bottom of the buying funnel is most likely to employ transactional keywords, they are also known as buyer keywords. Therefore, while conducting keyword research and developing an SEO or PPC strategy, these keywords are quite helpful.
As a general rule, these keywords could also be more precise, better defining a good or service (such as "Black yoga pants by HRX").
Conclusion
As you may have noticed, SEO keywords focus on terms and phrases that are used to improve the on- and off-page search engine optimization of your content. Also, different types of keywords in digital marketing are meant to guide the overall strategy behind your content and paid search campaigns.
The SEO tools also help you see how your site is performing for specific keywords and show you the average position of your targeted keywords.
Finally, SEO keyword research should remain an ongoing and ever-evolving part of your job as a marketer.
Now that you are well versed with Keyword tools, Keyword types, and what does it mean by keyword difficulty, it is time to get started with your own keyword research.