Writing amazing content for your website that answers your visitors' queries is important. Optimizing it with keywords that customers use for searching on Google is equally important if not more.
Optimize your website's content for users as well as search engines by using strategic keywords for targeting.
In this blog post, we will go through everything concerning Keyword planning for Search Engine Optimization (SEO).
For your convenience, we've divided this guide into sections covering the most important aspects of the topic. If you are a complete beginner, it is better to read up on Keyword terminology and the most commonly used Keyword research tools.
In case you are still unsure whether this guide is worth your time, take a look below for a quick glance over all that this blog covers:
Let's begin!
What are keywords in SEO
A keyword, or a target keyword as some call it, is a word or a phrase used actively by people for searching on the internet while it also best describes your product or service.
The content on your web page must include the keywords so that users can readily click your page.
For example: Let's say you own an online store for toys for dogs. You sell all sorts of chew toys, fetch toys, and more on your website. You actively blog about what kind of toys the dogs like best and also self-feeding dispensers that work best. So you've created product category pages about your products.
Ask yourself this:
What type of search term would you like to appear for?
What search terms do you anticipate people using to discover you?
What would the search query look like?
Probably "dog toys" right?
It doesn't just end there. There are a whole lot of other words or combinations of words you can opt for. Take a look at the other search volume keywords out there for you: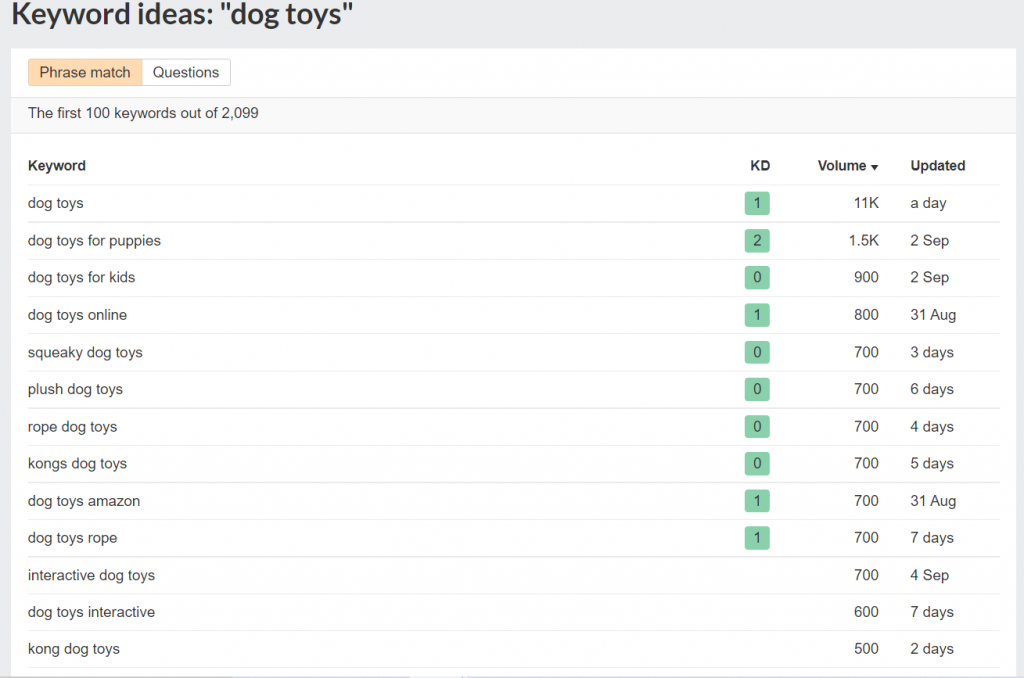 But how do you narrow in on your "targeted keywords"?
That is where keyword research comes in.
What is Keyword Research?
Keyword research is a strategy of discovering search terms (aka "keywords") that people use to look for stuff in search engines, like Google, Bing, and YouTube.
Finding all potential search terms or keywords most searched on Google that might be relevant to your brand and your clients is the process of conducting keyword research. Finding, classifying, and prioritizing keywords are all parts of keyword searches, which can then guide your keyword research strategies.
By using keywords, you can create content that attracts search engine traffic.
You must grasp what people are looking for online in order to create content that targets popular keywords and increase your search engine traffic. Your chances of receiving significant traffic from the search engines are minimal if you create content without conducting prior keyword research.
To put it another way, it involves learning the language of your customers and using that information to optimize your content.
Importance of keyword research in SEO
The power of keyword research lies in better understanding your target market and how they are searching for your content, services, or products.
The most well-known benefits of conducting keyword research are:
Updated Market Trends
Effective keyword research may give you information about current marketing trends and assist you in focusing your content on the relevant topics and search terms that your audience is using. It gives a better understanding of your market which is the starting point of any business as such.
Traffic Boost
The more relevant keywords you choose for the material you post, the higher you'll rank in search engine results and the more visitors your website will receive. This also builds greater awareness of your brand.
Customer Acquisition
If your website has content that meets their needs and provides a direct solution to their searches, it could lead them from simple browsing to actually making a purchase.
So with keyword search and keyword planning, you can find words based on popularity, search volume, and general intent, that will up your conversion rate. With effective keyword research, you can tackle questions most searched on google that most people in your audience want answers to.
Content planning
By looking at the search volume keywords on Google, you will find new relevant topics to cover on your site. This helps you to plan more diverse content that still resonates with your potential customers.
Better SERP ranking
It is important for businesses to understand the intent of keywords or search phrases that people use to find information so that they can create more targeted content and drive traffic to their sites.
Thorough keyword research helps brands understand the search intent better. Search engines like Google prioritize user experience over everything else, making search intent more critical than ever. The more your content matches with the search intent, the higher your ranking.
How to do keyword research
Now that you know the importance of SEO keyword research, how do you begin? Keep reading to learn the seven steps that will show you how to conduct keyword research for SEO:
Make a list of potential keywords
Making a list of potential keywords is the first stage in the keyword research process. These keywords can be as general or specific as you like, and they can relate to your market, your products, or your services in any way.
For instance, if you own a Home Decor shop in Hershey, your keywords can be "Home decor", "furnishing", "interior decoration", "Wall Art" or any other home interior accessories that you sell.
Additionally, you can include location-based keywords, which are phrases that characterize your state, city, region, or other things that people searching for your area could use.
Prepare a list of these keywords for analysis and keyword research strategies.
2. Research competitor's keywords
Then, you may visit the websites of your competitors to discover the keywords and find words they're using to describe the identical goods and services they offer.
Next, you can check the ranking for keywords of your competitors and plan your research strategies accordingly.
Investigating your competition can be a superb method to get ideas you never would have considered otherwise and can later guide the rest of your keyword research.
3. List the long-tail keywords you want to use
The next step is to extend your initial short list of keywords into a more extended list of long-tail keywords. Therefore, the keywords you generated in step one may be very brief and general, like "decor shops."
However, if you stop to consider it, there may be thousands or even tens of thousands of companies vying for that same phrase throughout the country, and as a local company, you're probably not going to be able to rank in the top 10.
Finding lengthier, more precise phrases that show a customer is explicitly seeking the products you provide or a decor shop in your location is basically what you want to achieve in this step of the keyword research for SEO. For example, a long tail keyword would be something like "golden wall decor for the living room".
While you can rely on Google's suggested searches, this method requires hard work and can take a long time. It is advised to use a keyword research tool to make the process quick and efficient.
4. Use the Keyword research tools
No matter what keyword research tool you have used, you will get a ton of different results for a single search term. Keyword research tools are the easiest and most reliable method to find words or "search terms" in your niche. Most of these tools automatically take into account keywords that are most searched on Google.
Some of them will be super relevant to your business while you may want to discard some of them outright as not relevant or not usable because of pricing or low search volume. Even then it could be an overwhelming list of keywords.
Take note of the ones that are relevant to your business. You can simply export all the keywords that you have searched for in a keyword research tool into a spreadsheet along with their metrics.
This will help you narrow them down to get the precise keywords that are going to generate the best possible results for your SEO strategy.
5. Investigate keyword metrics
You'll get a few metrics for each keyword after exporting your list.
The search volume, Keyword difficulty, and CPC, or cost per click, are the most crucial factors. The number of searches for each keyword per month is shown by the search volume. Users are more likely to be interested in a keyword if there are more searches for it.
The information used to calculate the cost-per-click is taken from Google AdWords or Google Advertisements and shows how many advertisers are attempting to place ads for a given term. It will be more difficult for your company to rank for that keyword the greater the cost-per-click.
The best keyword, thus, when talking about how to find keywords, would be one that has a large monthly search volume yet a low cost-per-click. This indicates that although many individuals are looking for this information, few websites are attempting to rank for it.
The keyword "home decor" used in this example has a high monthly search volume but a high cost per click.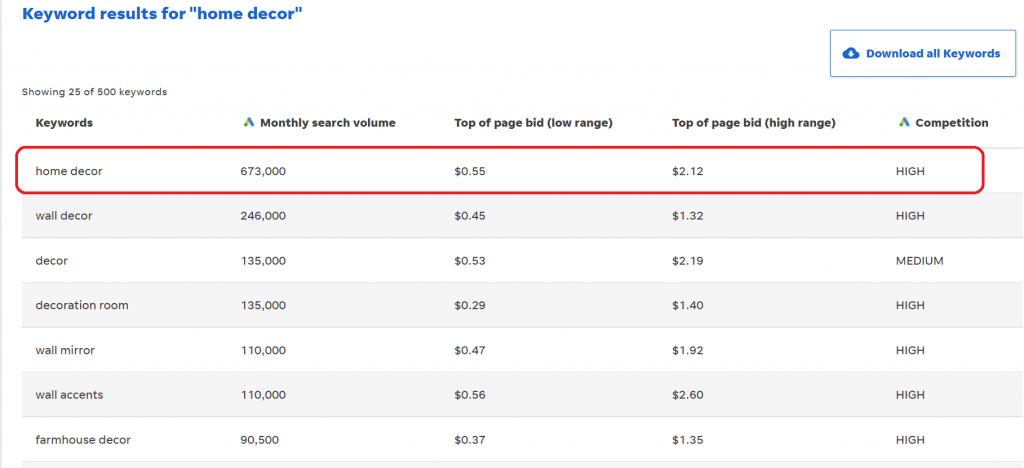 This indicates that many customers are looking for home decor items, but it would likely be challenging to rank for this generic term unless your site already has a fairly high domain authority.
There are definitely alternative keywords that will be more effective at bringing quality visitors to your site, but that doesn't mean it's not worth targeting or not worth having a page on your site for.
The keywords with a lower search volume but a lower cost-per-click can be found if you arrange the list by monthly search volume and scroll down a little more.
Instead the keyword "interior designers near me" receives 33,100 monthly searches on average. That's a fair amount of traffic for a keyword. That means a lot of potential consumers for your website if it can achieve high rankings for that keyword.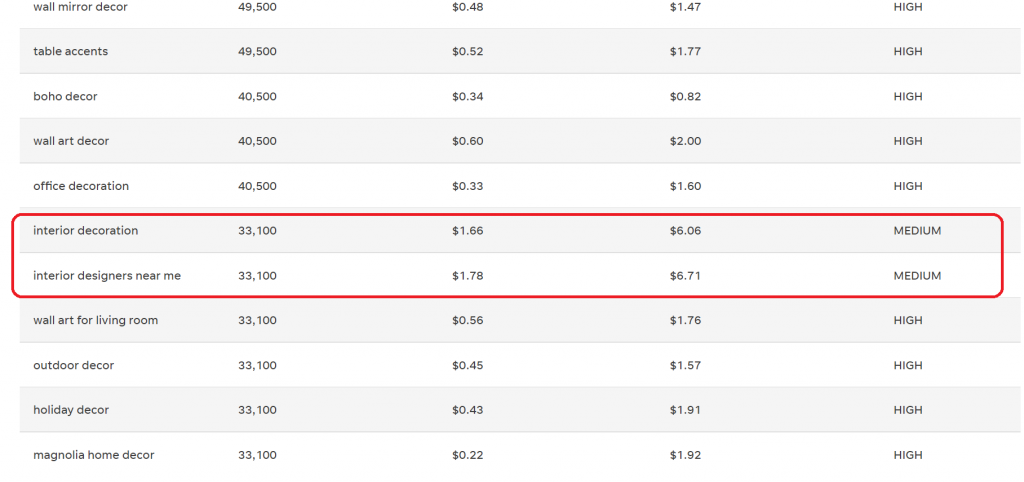 Don't emphasize too much on monthly search volume in the early stages of the keyword research for SEO.
Targeting long-tail keywords with a low search volume will still be worthwhile in the beginning before you focus solely on ones that will drive a lot of traffic.
You might even come up with ideas as you browse through this list of similar phrases that you hadn't previously considered. If so, you can utilize a keyword research tool to enter these phrases and identify more keyword variations that you can employ in your approach.
6. Prioritize your keywords
Once you have a list of potential keywords, you can choose where to use them on your website.
If you discovered keywords for which there are already pages, you can include these keywords in the body copy of each of these pages as well as in your title tags, header tags, meta descriptions, and other crucial HTML elements.
Having said that, you should avoid loading your content with keywords or inserting them in places where they are neither relevant nor useful. Your website's content should be written with your users in mind, with the intention of educating potential consumers and assisting them in getting the information they require.
You may have discovered a few keywords during the keyword research process for which you do not yet have content on your website. Rather than adding these keywords to unrelated pages in the hopes that they will rank for the relevant keywords, you should view this as an opportunity to add more content to your website or even add more pages that will benefit your visitors.
7. Make keyword research an ongoing process
You are free to conduct as much keyword research as necessary when optimizing your website. This will assist you in the long run in finding even more keywords that benefit your consumers while also ensuring that your keywords remain relevant to shifting search volumes and trends.
Therefore, even if the term "interior decoration" may be quite lucrative right now, customers will likely be looking for other newer phrases or the latest decor pieces in five years.
Advanced Tips and Strategies for Keyword Planning
It's time to move on to some advanced keyword research techniques and strategies now that you are familiar with the fundamentals of keywords.
Barnacle SEO
Do you believe it is sufficient if you are among the top 10 positions for your target keyword?
If you believe that is enough, then no, not really.
Using barnacle SEO, you can get greater traction from that keyword.
Using your site's authority to rank on the first page is known as barnacle SEO.
Consider that you appear on the first page of the SERP results for the search "SEO services."
Although this is a fantastic accomplishment for you, when you consider the wider picture, it only accounts for one SERP position.
In order to ensure that you appear on SERP more than once, you can take further steps.
Why not make a YouTube video that is optimized for your desired keyword?
You will have a web page and a video ranking for your goal term on SERP if that video also appears on SERP.
GSC Keyword Research
There are countless keyword suggestions in the Google Search Console.
You can go to GSC and select the "Performance Report" link.
The terms that generate the most clicks from Google Search are displayed to you in this report. The list can then be sorted by "Impressions."
This will help you find words with high impressions but low clickthrough rates. After that, you can develop content based on those keywords.
But why would you include those keywords in your content?
Because these terms are most searched on Google by people, Google would consider your website relevant to appear in the search results.
Optimize Content Around Related Keywords
It's crucial to optimize your content for the primary keyword, but don't stop there.
By enhancing your target keywords with closely related terms, you can increase the amount of traffic to your website.
While optimizing content with keywords is important, it is actually a tricky business. You don't want to accidentally do "keyword stuffing" and ruin the user experience. This will actually negatively impact your google ranking. Read more on 10 Common SEO mistakes to avoid.
Ahrefs Content Gap
In Ahrefs' tool, content gap analysis is a key component. To find out which other websites are ranked for your desired keyword, use the tool. Check ranking for keywords with Ahrefs.
Here is how to go about it.
Go to Ahrefs and add a few competitor websites. This will provide terms for which some of your competitors are ranked but not you.
If there are more than two competitors using such keywords, you can target them and attempt to rank in the top spots on SERP.
Investigate Keywords Using the Search Intent
What do you suppose a person is looking for when they type a word or phrase into a search engine?
Do they want to purchase something or are they casually looking for information?
It's essential to know the search intent of a term before choosing one to target. The creation of suitable content centered on that term is the key.
For instance, a keyword with an informational aim is best employed in blog posts and articles.
Look for shoulder keywords
This concludes my list of advanced keyword research advice.
Although they are not directly linked to your target keyword, shoulder keywords can still be used to drive traffic to your website because your audience is likely to search for them.
For example, say I offer "SEO services", but I won't be optimizing every content on my site with commercial terms.
As an alternative, I'll seek keywords that people use while not looking for SEO services. "Link building services" and "guest blogs" are a few examples.
I chose these terms since they might also appear in searches for my target customers who are searching for my target keyword. However, they are not very closely related to my target keyword.
Conclusion
This blog would have given you a fair idea of what goes into keyword research for SEO.
Any long-term SEO plan should begin with keyword research. An exhaustive list of keywords for which you want to be discovered is what you get at the end. But writing all that stuff is still the most difficult part. For each keyword you want to rank, you should publish articles and blog entries.
Find out more about our custom SEO plans for small-to-midsize businesses if you're looking for professional help with SEO!